Generous Neighbors Warm Homeless Vets and brighten the Elks Memorial Building
On Saturday, November 7, the Elks National Veterans Service Commission hosted a clothing drive to help vets who are experiencing homelessness. The doors of the magnificent Elks Veterans Memorial opened wide to welcome neighbors carrying bags filled with much needed donations.
The call for donations went out to the Lincoln Park and Lakeview neighborhood. Hats, gloves, socks, boots and warm coats to keep homeless vets safe and warm in the winter months began arriving as soon as the doors opened at noon. News of the event spread by posting signs in the laundry rooms of local high-rise buildings, writing an article for the local paper (The DNA) that was widely distributed through social media, and hanging big banners out front of the Memorial.
The donations were distributed at the Stand Down event on November 10 at the National Guard. This annual event provides a wide variety of services to homeless veterans. Last year more than 700 vets benefitted from services provided at the Stand Down. Staff at Elks Headquarters served last year and were eager to help out again this year.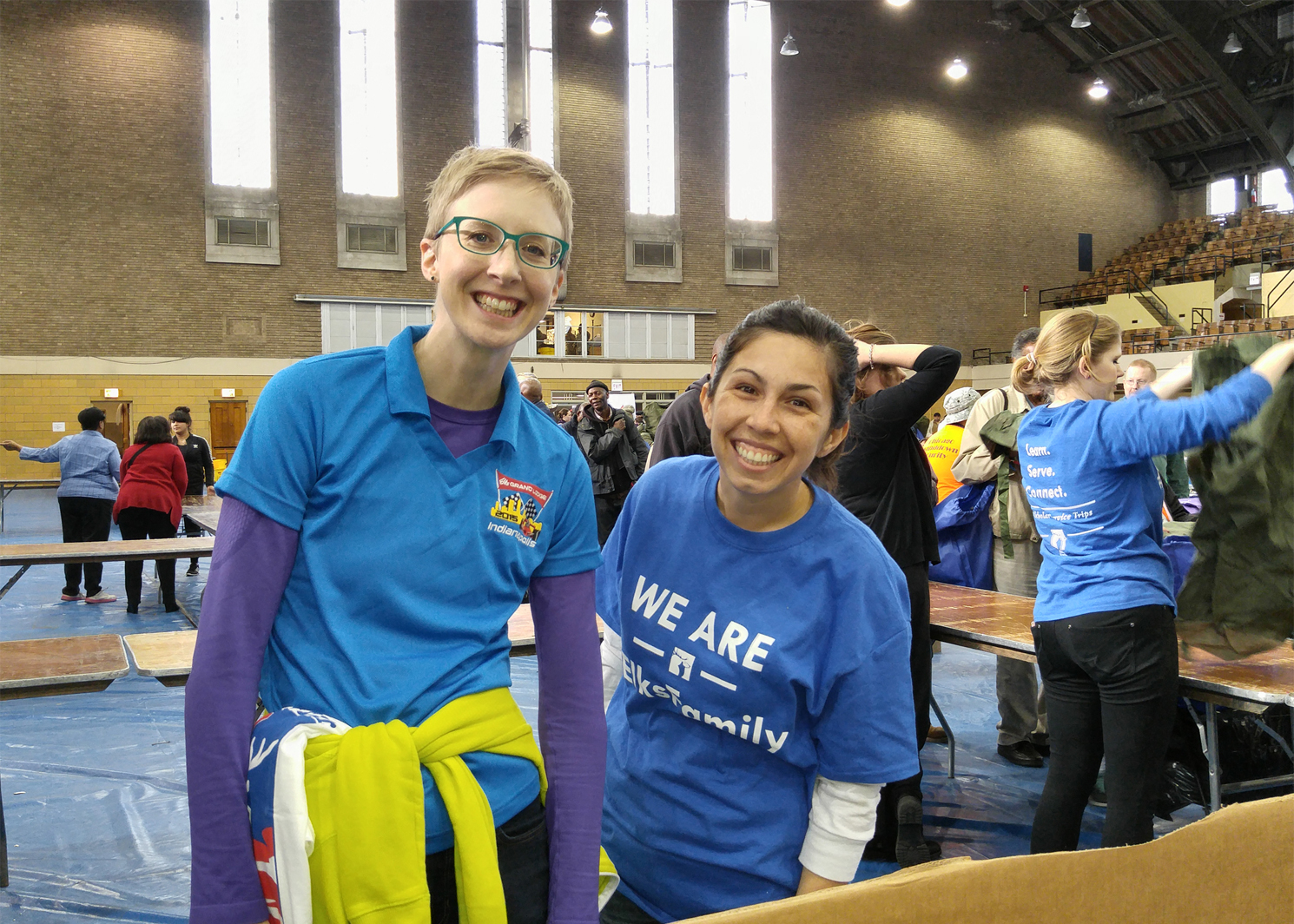 The outpouring of support from the neighborhoods surrounding the Elks National Headquarters was heartwarming. Some neighbors like Brook Browne even stayed to help fold and organize clothes. She said, "This is wonderful! I live across the street and I have been looking for a way to serve in my community."
Elks scholar Elizabeth McQuillan, granddaughter of past National President Jim McQuillan brought her sister Madeline to help out. Both young women were great ambassadors for the Elks family, warmly greeting neighbors and helping pack donations into boxes.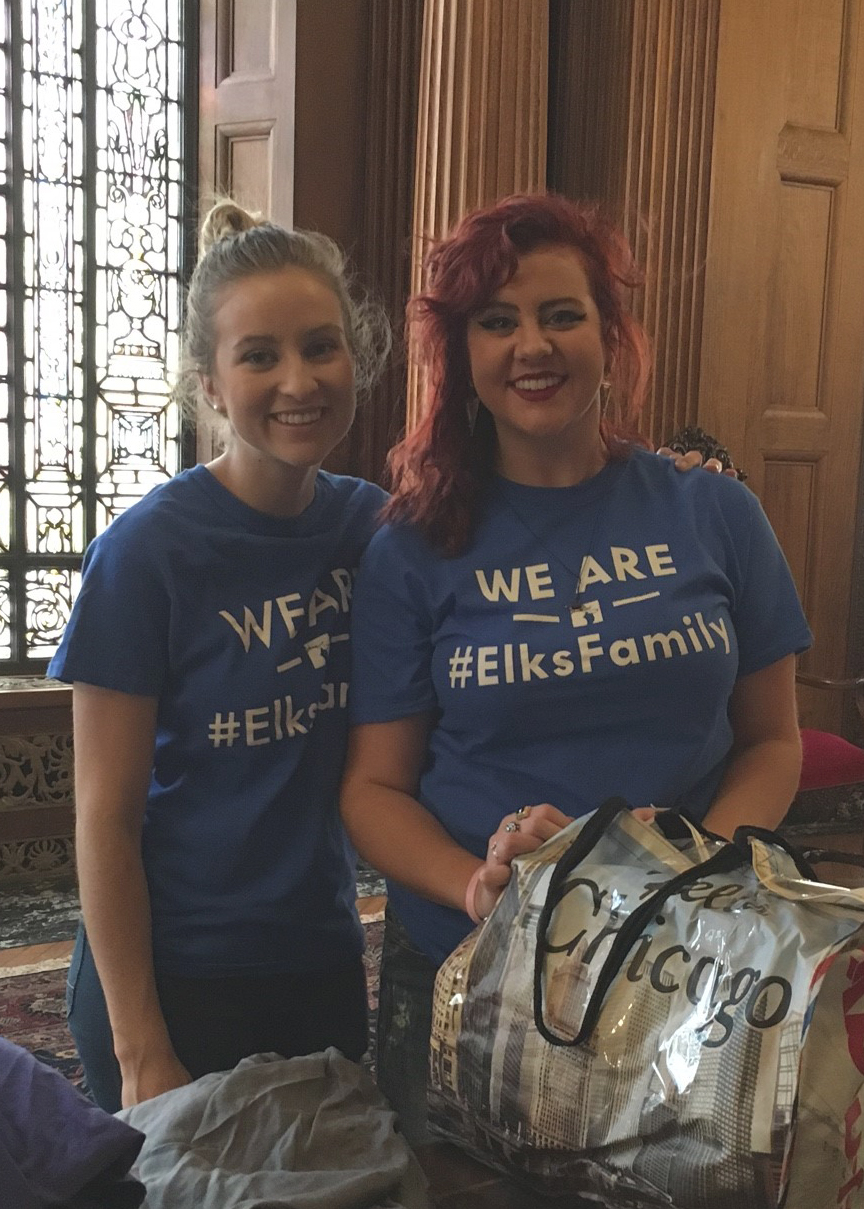 Elizabeth said, "I am so glad to have an opportunity to give back to the Elks, they have helped me with my education. I had the privilege with helping out at the Stand Down last year and it was amazing to see how many services were provided, from haircuts to medical checkups." Madeline added, "We are both honored to serve veterans who have sacrificed so much for our freedom."
Kelly Frost and Steve Bouchard came with more than 15 warm coats. When asked where they found such great coats for the veterans, they explained that for years they have been going to estate sales and collecting items for all sorts of clothing drives for people in need. "We are selective about the coats we buy. It should be in good enough condition for the recipient to wear to an interview and feel good about how they look," explains Kelly.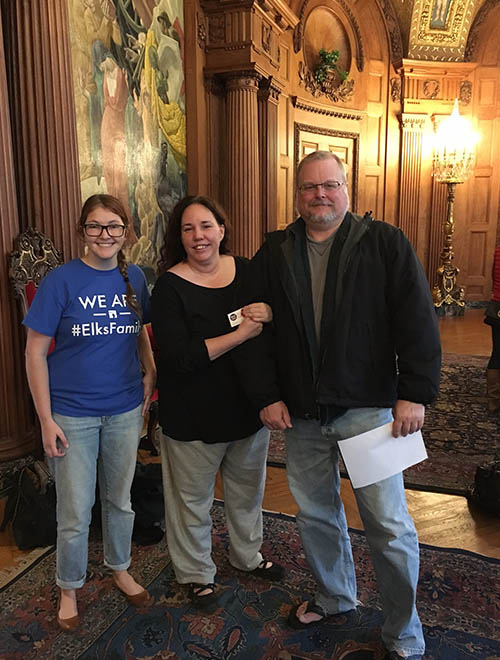 Kelly served as Leading Knight and was named Elk of the Year at Lodge No 1342 in Porterville Calif. She moved to Chicago to be with Steve more than 8 years ago. She was happy to see the banner and serve with the Elks in her neighborhood.
Mary Morgan, head of the Elks National Veterans Service Commission led this successful event.
"I was amazed by the number of neighbors who came with donations", Mary said. "People really welcomed the opportunity to join us in this great work. This should be an annual event."
Many neighbors learned for the first time about the Elks pledge to serve our veterans as well as about the scholarships, grants and youth programs that equip Elks to serve their communities in powerful ways. This event helped those living closest to headquarters learn how much the Elks care and how Elks work together to build stronger communities.
---
Back to top