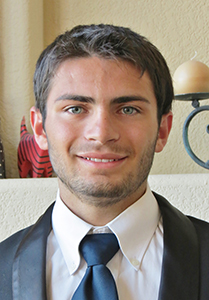 2015 Most Valuable Student Scholars
Colorado School of Mines—Chemical Engineering Major
Sponsored by Longmont, Colo., Lodge No. 1055
For 2015 Most Valuable Student scholar Alexander Santilli, working to create a better world comes naturally. Besides helping his community through service he is also active in advocating for the environment.
Alexander was involved in many initiatives throughout high school and kept busy with service and other extracurricular activities. He served with the Left Hand Outdoor Challenge, which volunteered to help preserve public land and natural resources and promoted environmental sustainability.
He also spent his summers volunteering with the Colorado Junior Wheelchair Sports Camp, where he helped disabled children participate in sports. In addition, he worked with the local food bank to help create Easter baskets for families in need, and worked with his high school's education foundation to fund-raise for student scholarships, among many other initiatives. His community recognized his dedication to service, as he was awarded a "Friend to All Award" through his high school.
Besides his commitment to community, Alexander set himself apart through hard work. For two summers he worked for the Boulder County Youth Corps, where he worked with his peers in forestry, trail maintenance, and fire mitigation. He also founded and owns Coal Greek Geeks, where Alexander used his knowledge to help repair computers and cellphones.
"Being named an Elks scholar is a great honor and privilege but it also comes with great responsibility," says Alexander. "Being a part of the Elks family will help me continue reaching out and find new ways to remain involved with my community and to help those around me in need."
Alexander plans to continue his love of helping others and the environment through college, as he begins his studies in chemical engineering. He hopes to combine newfound knowledge along with problem solving skills to help solve contemporary issues while being environmentally responsible.
"My goal is to live by the concept that success is not measured by wealth or personal accomplishments; success is measured by the impact you have on others," says Alexander.
For 2015-16, the Elks National Foundation allocated $2.74 million to fund the Most Valuable Student scholarship program, which includes 500 four-year Most Valuable Student Scholarships. For more information about the Most Valuable Student scholarship program, including eligibility and deadlines, visit www.elks.org/enf/scholars.