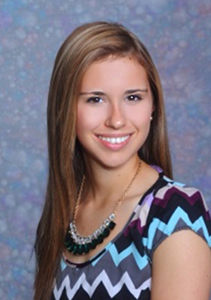 2015 Legacy Awards Scholar
University of Pittsburgh—Biology Major
Sponsored by Norwin, Pa., Lodge No. 2313
The Elks family is dedicated to giving back to communities nationwide. Rebecca Rohac is hoping to use the leadership and service experiences she gains as an Elks scholar to help others in the future.
Rebecca was active throughout high school, including serving in student government, working as a writer for the newspaper and yearbook, excelling in cross country by serving as the team captain, obtaining a varsity letter, and organizing a Relay for Life team with her cross country and track peers.
She also started an all-girls mentoring program at her school and served as the founder and president. Rebecca also volunteers her time at numerous charity races, as a judge for local science fairs, and served as a camp counselor for Camp Invention, which focuses on STEM education for children.
Rebecca was excited to be welcomed into the Elks family and eager to develop her leadership skills in the future.
"Being an Elks scholar to me is more like a beginning rather than an end," says Rebecca. "I feel as an Elks scholar I have a responsibility to bring to fruition what it truly means to be a leader on both a national and local level."
With the help of her Elks scholarship, Rebecca is on her way to becoming a leader, both in college and beyond. She plans to graduate with a degree in biology as well as a minor in neurosurgery, before serving her country in the military and attending medical school.
In particular, Rebecca hopes to use her knowledge of the human mind and her personal experience to research and help to remove the stigma that is often associated with mental health. She also plans to continue her passion for running by competing in marathons.
While Rebecca's goals may seem dissimilar, her focus is on helping others.
"I need people to help me change stigmas, I need people to treat, and I need people to help me help others," says Rebecca. "The service and leadership experience I can gain through the Elks will help me grow as a leader and person."
In 2015-16, the Elks National Foundation allocated $1.1 million to fund 250 scholarships for the children and grandchildren of Elks. If you know any Elks children who are high school seniors, encourage them to visit www.elks.org/enf/scholars for information, including eligibility and deadlines.