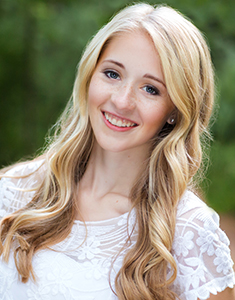 2015 Most Valuable Student Scholar
University of Wisconsin-Madison-Finance Major
Sponsored by Stevens Point, Wis., Lodge No. 641
The Elks family loves volunteering their time to help others. And for one member, 2015 Most Valuable Student scholar Rachel Ley, creating positive social change and encouraging others to do the same is the foundation for her personal and professional goals.
Rachel devoted her high school career to service, helping others and inspiring youth activism from the local to international level. In 2009, she began Literacy for Little Ones, which encourages parents to read to their newborns to help create family bonds, instill a love of reading, and establish strong foundations for the child's future education.
The group achieves their mission by donating books to hospitals in Wisconsin, Minnesota and Nicaragua, which in turn provide books and information to new mothers on the importance of early literacy and reading to their children. Since the organization's founding, Rachel has impacted over 14,500 families, recruited more than 850 volunteers, raised more than $23,000, and established a college chapter at University of Wisconsin-Platteville. She continued to inspire her peers by serving as a Portage County Teen Leader to promote service in the community and sat on the Portage County Reading Roundtable to promote community literacy.
But Rachel has done more than inspire service in her community. She also served on the generationOn National Youth Advisory Council, one of only 14 students in the nation. Through her involvement, Rachel worked to engage her peers to make their mark on the world through service and has organized over a dozen major community service events, benefitting over 3,000 people and inspiring over 700 of her peers to serve. She has also presented at local, national, and international levels about the importance of youth volunteerism.
Rachel is proud to be a member of the Elks family, a family that shares her values of service and giving to others.
"As an Elks scholar, I am overjoyed to be a part of the supportive, inspiring, and change making Elks family," says Rachel. "Since receiving the Most Valuable Student scholarship, I have seen how committed the Elks are to making a positive impact in our world and building stronger communities."
Thanks to her Elks scholarship, Rachel will continue creating social change in college and throughout her career. Majoring in finance, she plans to pursue opportunities to improve business and stabilize local economies in developing countries. She hopes to one day become an economic affairs officer for the United Nations, collaborating with business owners, citizens, and politicians to help create a sustainable global economy.
"The Elks mission of building stronger communities aligns perfectly with my mission of serving our world," says Rachel. "I feel so fortunate to be an Elks scholar."
For 2015-16, the Elks National Foundation allocated $2.74 million to fund the Most Valuable Student scholarship program, which includes 500 four-year Most Valuable Student Scholarships. For more information about the Most Valuable Student scholarship program, including eligibility and deadlines, visit www.elks.org/enf/scholars.