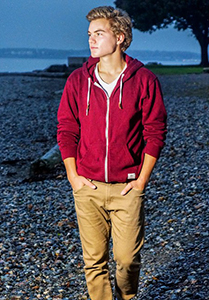 2015 Most Valuable Student Scholar
Stanford University—Economics and International Business Major
Sponsored by Bellingham, Wash., Lodge No. 194
Graduating at the top of your class and being accepted to a top institution is a great accomplishment for any student. But for Timothy Lann, it is just the beginning of what he accomplished throughout high school, and plans to accomplish in the future.
Serving others has always been a passion for Timothy, who was drawn to international volunteer service in high school.
"Ever since I was a young boy, I loved being around people and helping them in any way I could," says Timothy. "This love stayed with me as I transitioned into high school."
Beginning in freshman year, he travelled to Mexico to serve at an orphanage, working with hunger programs and community rebuilding. He was so moved by his experience that he decided to start his own nonprofit, Brothers Against Poverty, to help decrease the amount of people living in poverty throughout the world. Upon its founding, Timothy traveled to Nicaragua to work with an international nonprofit on poverty outreach throughout the country. Thanks to his hard work and accomplishments in improving the organization's outreach, he was invited back the following year to work as a youth business consultant.
But Timothy didn't stop there. He returned the following year and travelled throughout El Salvador, Nicaragua and Honduras, building upon his previous work in community revitalization and youth poverty outreach. Timothy and his partners ultimately reached more than 28,000 children and established thousands in programs to help raise them out of poverty.
Currently, the organization supports educational programs for orphans in Mexico, organizes and leads economical educational programs for youth living in poverty in Nicaragua, El Salvador, and Honduras, and also works with Habitat for Humanity in the United States. Looking forward, Timothy hopes to continually expand the organization's outreach by expanding to 20 countries within the next four years.
Despite completing more than 3,000 hours of service between founding his own nonprofit and serving with other organizations, Timothy found time to excel in other areas, including playing four sports, serving as the team captain, and playing several instruments. He also conducted scientific research, including working in Hawaii this summer on biology and ecology research.
Timothy is excited to join a network of other motivated students dedicated to excellence in academics, community service, and life.
"It means being forever connected to a group of passionate, service minded leaders who seek to use their gifts to make the world a better place," says Timothy on what it means to be an Elks scholar. "It means being a part of a group who is always pursuing knowledge and seeking to apply that knowledge for good."
Now, thanks to the support of his Elks family, Timothy will continue making the world a better place both at home and abroad.
For 2015-16, the Elks National Foundation allocated $2.74 million to fund the Most Valuable Student scholarship program, which includes 500 four-year Most Valuable Student Scholarships. For more information about the Most Valuable Student scholarship program, including eligibility and deadlines, visit www.elks.org/enf/scholars.