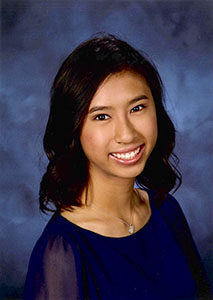 2015 Most Valuable Student Scholar
Pomona College-Neuroscience Major
Sponsored by Santa Ana, Calif., Lodge No. 794
Elks scholars are known for excelling throughout high school and beyond. For Jessica Phan, her high GPA and many hours of service are just the tip of the iceberg for what this driven scholar accomplished in high school and plans to achieve in her future.
Throughout high school, Jessica found time to shine in many areas. She played both piano and double bass and shared her love of music by teaching piano. She also excelled in athletics and language, ran track and cross country, served as president of her Spanish Club and helped sponsor the education of several children in Guatemala. To top it off, she excelled in academics, graduating with a 4.0 GPA.
Besides her academic, athletic and musical achievements, Jessica has a passion for giving back. She volunteered over 1,000 hours in several organizations, including working as a nurse's aide at UC Irvine Medical Center, as a teacher's aide at the Blind Children's Learning Center, and a teen tutor at READ/Orange County. She also taught language arts to nearly a dozen elementary students and tutored her peers in both Spanish and math.
"Receiving the Most Valuable Student scholarship has enabled me to have access to more opportunities to serve my community," says Jessica. "Being an Elks scholar means being part of a supportive community that shares my passion for giving back to others."
Now, thanks to her talents and the help of her Elks family, Jessica will continue giving back to others by pursuing neurology and potentially medicine. She has a personal connection to neurology, as she cared for her grandparents as they struggled with Parkinson's disease and bipolar disorder. Through neurology, Jessica hopes to combine her love of science, learning, and helping others.
"I am so grateful to the Elks National Foundation for welcoming me into the Elks family," says Jessica. "I am proud to continue the Elks legacy of serving others to make our world a better place."
For 2015-16, the Elks National Foundation allocated $2.74 million to fund the Most Valuable Student scholarship program, which includes 500 four-year Most Valuable Student Scholarships. For more information about the Most Valuable Student scholarship program, including eligibility and deadlines, visit www.elks.org/enf/scholars.