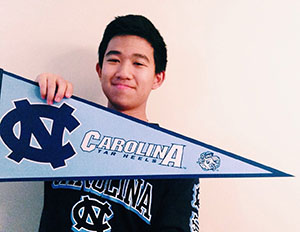 2015 Most Valuable Student Scholar
University of North Carolina-Chapel Hill-Finance Major
Sponsored by New Bern, N.C., Lodge No. 764
Jerry Fung knows the meaning of hard work. The child of immigrant parents, Jerry started working in his aunt's restaurant at the tender age of 13. Since then, he worked on average six to seven days a week, helping with the front desk and waiting on customers.
"Hard work was always evident in our household," says Jerry. "I wanted to be independent and never have to ask my parents for financial assistance and the job has allowed me to reach my goal."
These early financial lessons inspired Jerry to pursue a career in finance with plans to become an angel investor, an investor who funds start-up companies to help them grow and compete in the market.
"I want to give hope and advice to people who are passionate about their products and allow them to make a difference," says Jerry. "Being an angel investor is the perfect combination of the business world and service."
Despite working many hours in family businesses, Jerry found time to excel in other areas. He graduated second in his class and volunteered more than 300 hours at the local hospice and a children's partnership center, advocating for the healthy development of children in his community.
After attending a scholarship dinner at his sponsoring Lodge, Jerry was inspired by the work the Elks do in his community and in communities across the country.
"To me being an Elks scholar means that I am part of a family," says Jerry. "This is a family made up of Lodges all over the nation and knowing that sparks excitement."
He is also thankful to the support of his new family, which not only shares his values of service and community but is enabling him to attend the University of North Carolina and pursue his interest in finance.
"An Elks scholar is an individual that sees the value of knowledge and service, while trying to improve all aspects of life," says Jerry. "I am able to serve in communities and have that wide network of other scholars who share the same passion."
For 2015-16, the Elks National Foundation allocated $2.74 million to fund the Most Valuable Student scholarship program, which includes 500 four-year Most Valuable Student Scholarships. For more information about the Most Valuable Student scholarship program, including eligibility and deadlines, visit www.elks.org/enf/scholars.