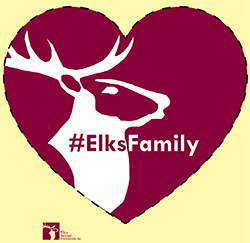 Did you know the Elks National Foundation is known as the Great Heart of Elkdom? It's no surprise to Elks scholars because of the love and support they receive throughout their four years of college and beyond. Read why these Elks scholars love being a part of the Elks family. Then, tell us why you love your Elks family!
Click here
to download an #ElksFamily heart, then snap a photo of yourself and use #ElksFamily on
Twitter
,
Instagram
or
Facebook
to show the love!
"Being an Elks scholar means that I am a part of a very supportive community. I love knowing that I have people all around me that are helping me succeed with this scholarship and with their support. I could not be more thankful for the scholarship, this amazing community, and the fact that I get to call myself an Elks scholar." – Aimee Anderson, 2013 Legacy scholar sponsored by Pahrump, Nev., Lodge No. 2796
"I love being an Elks scholar because it means I'm a part of a larger community. The Elks have given me a connection with other students my age who have similar interests and achievements." – Jessie Hearn, 2014 MVS scholar sponsored by Fort Smith, Ark., Lodge No. 341
"Being an Elks scholar means that with the help and love from Elks across the nation, I can realize my potential and go to my dream school—Yale—the school that I've wanted to go to since elementary school. Thanks to everyone who has supported me." – Zachary Johnson, 2013 MVS scholar sponsored by Calvert, Md., Lodge No. 2620
"Being an Elks scholar means being a part of a warm and accepting community. I love receiving emails from the Elks National Foundation and I like being able to meet Elks scholars on my campus." – Shelly Ngo, 2013 MVS scholar sponsored by Glendale, Calif., Lodge No. 1289
"Being an Elks scholar makes me feel like I'm part of a family. I love hearing about all of the opportunities we have as Elks scholars and I love interacting via Twitter. It's such an honor to be a part of such a warm and loving community." – Elizabeth Valenti, 2014 MVS scholar sponsored by Colonia, N.J., Lodge No. 2282
"I love the community Elks offers its scholars, making it more than simply an organization that is willing to help fund your education, but that wants to support and encourage you as well." – Dicia Wahl, 2013 MVS scholar sponsored by Paw Paw-Allegan, Mich., Lodge No. 1621
In 2014-15, the Elks National Foundation appropriated $4.06 million to fund the ENF scholarship program, which provides college scholarships, ensuring a bright future for our nation's youth. Today's Elks scholars can be tomorrow's Elks. Be sure to include Elks scholars from your Lodge in Lodge events and service projects. For more information about our scholarship programs, and for ways Lodges can get involved with Elks scholars, visit www.elks.org/enf/scholars.