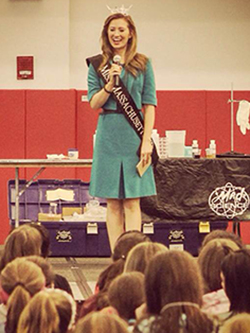 With her intelligence, dedication to service and positive attitude, it's no surprise 2009 Legacy scholar Lauren Kuhn was named Miss Massachusetts in 2014. And it's no surprise her Elks family was cheering her on! Now, we're happy to announce that Lauren will be sharing her positive message with the 72 finalists and their families as the keynote speaker at the 2015 Hoop Shoot National Finals in Springfield, Massachusetts, this April.
A Proud Member of the Elks Family
Before she landed her role as Miss Massachusetts and placed fifth in the 2015 Miss America competition, Lauren, a former Hoop Shoot participant, attended Gonzaga University and graduated with a biology degree thanks in part to help from her Elks family.
"Receiving the Legacy Award was a big dose of encouragement," says Lauren. "It was great to know that the Elks National Foundation thought of me as an investment. It made me feel like I was going places and that there were people who really believed in me."
One of her biggest believers is her grandfather, a member of Hoquiam, Wash., Lodge No. 1082, and her Legacy Awards sponsor. Lauren says the scholarship helped to bring them closer together.
"I felt a greater bond with my grandfather since he was able to feel more a part of my education because of the scholarship," says Lauren.
Habits for a Bright Future
After graduation, Lauren packed her bags and headed to the East Coast to attend the Harvard School of Dental Medicine. While Lauren's days are filled with attending lectures and Miss Massachusetts appearances, she always finds time to give back. Her favorite volunteer activities have to do with her passion—helping children learn good dental habits.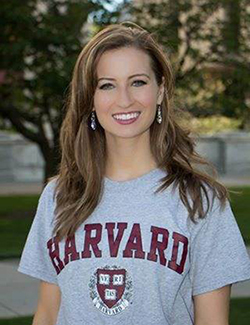 "It's important because children only learn what they're exposed to," says Lauren. "There are a lot of well-meaning parents who don't have the means to provide the best dental care."
To help, Lauren spends time teaching children proper ways to brush their teeth, providing supplies, and offering healthy snacks. Her goal is to teach children good habits that will set them up for a healthy life—making her a great fit for the Hoop Shoot!
Lauren is an expert in good habits, which can be seen in her dedication to academics, service, and her community. We know that all children she meets, including the Hoop Shoot finalists, will learn a lot from a great role model like Lauren.
In 2014-15, the Elks National Foundation appropriated $4.06 million to fund the ENF scholarship program, which provides college scholarships, ensuring a bright future for our nation's youth. For more information about our scholarship programs, and for ways Lodges can get involved with Elks scholars, visit www.elks.org/enf/scholars.
Through the Elks National Hoop Shoot Free Throw Program, the Elks National Foundation offers youth the opportunity to engage in healthy competition, connect with their families and community, and succeed both on and off the court. In 2014-15, the ENF allocated $825,160 to fund this program. For more information on the Hoop Shoot, visit www.elks.org/hoopshoot.