Elks scholars love serving veterans, just like their Elks family! On November 21, six Chicago-area Elks scholars joined Foundation and Grand Lodge staff in serving homeless veterans at the Chicago Stand Down. The scholars eagerly anticipated the day.
"Serving our country is very important," says Elizabeth McQuillan, a 2012 Legacy scholar sponsored by Ogallala, Neb., Lodge No. 1760, who attends Loyola University. "I'm looking forward to recognizing their service and giving back."
After visiting the Elks Veterans Memorial, the scholars and staff headed to the Stand Down, where we jumped head first into helping veterans in need. Scholars helped by sorting donated clothing by type and size and interacting with veterans to ensure they were receiving the items they needed.
"I really enjoyed finding the right clothes for the veterans," says Griffin Cox, a 2011 Most Valuable Student scholar sponsored by Chicago Northshore, Ill., Lodge No. 1316, who attends the University of Chicago.
The scholars were happy they could give back with the Elks.
"I wanted to give back to the Elks because you have given so much," says Thelma Godslaw, a 2012 MVS scholar sponsored by Gardena, Calif., Lodge No. 1919, who attends Northwestern University.
Together, the Elks family honored veterans' service and provided relief to hundreds of area veterans in need.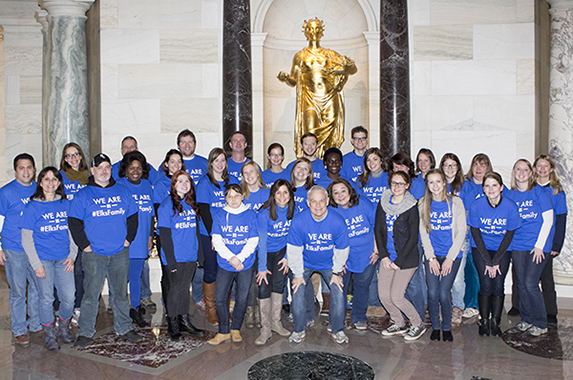 Elks are passionate about serving veterans. Learn how to serve veterans by holding projects that meet one of five areas of increased needs. Visiting www.elks.org/enf/community/veterans.cfm to get started. When planning a service project, don't forget to engage Elks scholars as volunteers. Visit www.elks.org/enf/scholars/volunteer.cfm for ideas.