The Elks have a long and impressive history of serving veterans, and so do Elks scholars. Read about a few Elks scholars who have dedicated their lives to serving their country, with their Elks family by their side.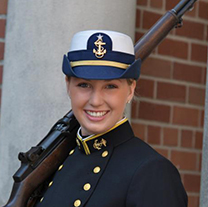 Victoria Gurtler
2011 Legacy scholar sponsored by Wisconsin Rapids, Wisc., Lodge No. 693
United States Coast Guard Academy
Victoria was interested in attending a college that would test her physically, mentally, and emotionally, so she enrolled in the US Coast Guard Academy.
"I wanted to invest my education dollars in an institution that honed leadership skills and placed great emphasis on discipline, honor and devotion to duty," says Victoria.
When she's not studying for her degree in government, Victoria plays NCAA Division III women's basketball and sings with the Cadet Glee Club. After graduation, she'll spend her first tour as an officer on a cutter.
"As an Elks scholarship recipient, I take great pride in the Elks' devotion to our nation's veterans, our youth and communities in which we live," says Victoria, who comes from a long line of Elks, including her father and grandfather. "My grandfather always emphasized the importance of having a positive impact on others. The fact that I was awarded this honor means so much more to me because I know just how proud my grandfather would be of me today."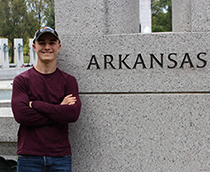 Taylor Adams
2013 MVS scholar sponsored by North Little Rock, Ark., Lodge No. 1004
United States Naval Academy
Taylor is working toward a degree in political science. But, since he's at the Naval Academy, his regular political science classes are broken up with classes like ethics and navigation. All the while, Taylor is focused on helping others with what he learns in the classroom.
"I came to the Academy in order to help other people," says Taylor. "I just knew that I wanted my education not to be merely a means of improving my own way of life, income, or knowledge; instead, I searched for a way to better myself in a way that I could benefit others."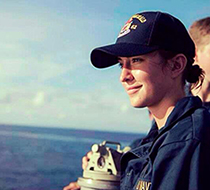 McKenzie Barnett
2013 MVS scholar sponsored by Kodiak, Alaska, Lodge No. 1772
United States Naval Academy
Currently in her sophomore year, McKenzie is hard at work at the US Naval Academy. After graduation, she's excited to give back by serving her country.
"The Academy provides me with the opportunity to get a world-class education that will allow me to immediately give back after graduation," says McKenzie.
While she completes her studies at the Naval Academy and readies herself for service, McKenzie knows her Elks family is by her side.
"More than anything my Elks scholarship has reaffirmed my conviction that hard work, compassion, and determination not only don't go unnoticed, but can get you just about anywhere you want to be in life," says McKenzie.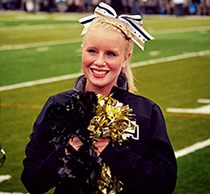 Alyssa Brochu
2012 Legacy scholar sponsored by Augusta, Maine, Lodge No. 964
United States Military Academy
A sophomore at the United States Military Academy, Alyssa has already learned important lessons about what it takes to serve her country.
"I have learned how to overcome adversity in times of stress, work well with others, and lead my peers," says Alyssa. "Through this, I have learned that the Army is a family and we are all sisters and brothers in arms."
After graduation, she will commission into the United States Army as a Second Lieutenant, and hopes to work in medical service.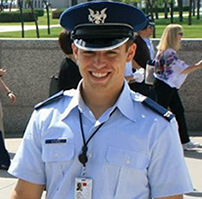 Joel Lewis
2011 MVS scholar sponsored by Mission Valley, Mont., Lodge No. 1695
United States Air Force Academy
Joel's desire to serve his nation brought him to the Air Force Academy several years ago. He'll serve as a pilot after he graduates with a degree in Business Management, something his ENF scholarship helped him achieve.
"The Elks scholarship has helped me tremendously through my time here at the United States Air Force Academy," says Joel. "Because cadets live on such a tight budget, it has helped me do things that I would otherwise not have been able to do, and for that, I am beyond grateful. The Elks scholarship has meant the world to me."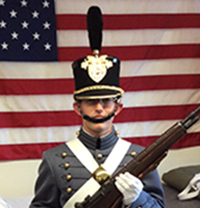 Kevin Patterson-Schiff
2014 MVS scholar sponsored by Albuquerque, N.M., Lodge No. 461
United States Military Academy
Kevin enrolled in the United States Military Academy looking for a challenge. Now, Kevin is being challenged every day in the classroom, and after graduation, he'll serve five years in active duty. For Kevin, receiving his Elks National Foundation scholarship gave him confidence knowing that the Elks believed in him.
"Receiving my scholarship means someone thought that I had accomplished enough in high school to be worthy of the money and I could put it to the best use," says Kevin.
The Elks National Foundation is proud to take part in the journeys of these outstanding Elks scholars. We salute you!
In 2014-15, the Elks National Foundation appropriated $4.06 million to fund the ENF scholarship program, which provides college scholarships, ensuring a bright future for our nation's youth. Today's Elks scholars can be tomorrow's Elks. Be sure to include Elks scholars from your Lodge in Lodge events and service projects. For more information about our scholarship programs, and for ways Lodges can get involved with Elks scholars, visit www.elks.org/enf/scholars.