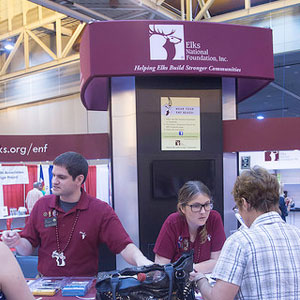 The Elks National Foundation didn't take it easy in the Big Easy. During the 2014 Elks National Convention, ENF staff had a great time catching up with supporters and volunteers. At our talk show,
Midday
, filmed in front of a live studio audience, Elks scholars shared the top 10 ways to know you're an Elks scholar. Inspired by their list,
here are the top 10 ways you know you just got back from the 2014 Elks National Convention.
You're still recovering from the surprise of six of the top 20 Most Valuable Student scholars entering the stage to thank the Elks after the ENF debuted a video about the inaugural MVS Leadership Weekend.
You don't want to take off your credentials full of ENF ribbons indicating your donor level, giving clubs, and that your Lodge used a Gratitude Grant.
You've got your ENF beads, but are still checking the ENF Facebook Page for a final Clue of the Day giveaway. (Coming soon!)
You can't wait for your Lodge's DVD of Midday, hosted by Jim O'Kelley and featuring Elks scholars sharing their experiences, to arrive by mail next month.
You keep reliving the ENF Donor Event, and all ENF Convention events, by checking out our Flickr album.
You've been telling all your friends about the three Elks scholars who showed off their brand-new membership cards at Opening Ceremonies. Don't worry—we have a video to help you spread the word on how, buy engaging them, today's Elks scholars can be tomorrow's Elks.
You're still full from the cake at the ENF Salute to Excellence Reception, where you joined ENF supporters in celebrating a successful year. Want to relive the Salute at home? Watch the CIP Volunteer of the Year video and the Hoop Shoot video that debuted at this reception.
You know how Elks scholars can partner with your Lodge in meeting the needs of today's veterans after watching this music video.
You're still wiping away tears from the top MVS scholarship winners' speeches, and are proud to call them members of our #ElksFamily. Click here to watch Eric Kim's and here to watch Autumn Pack's speech.
After attending the CIP: Share Your Ideas seminar, How to Host a Hoop Shoot, Beacon Grant Basics, and more, you're armed with all the knowledge you need to run successful ENF programs in your Lodge. To review the presentations given at each of our seminars, click here.
Thank you to everyone who joined the Elks National Foundation in New Orleans, or followed us on Facebook and Twitter! To watch all Convention videos, click here.
---
Back to top