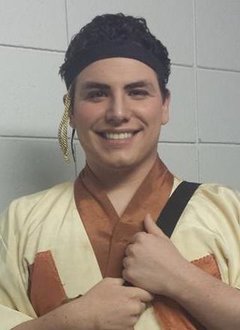 Music is said to be a universal language. For Eric Ferring, it is a lifelong passion that allowed him to find his voice.
Eric, a 2010 Most Valuable Student scholar, sponsored by Dubuque, Iowa, Lodge No. 297, recently graduated with a degree in Vocal Performance from Drake University.
Having loved to sing since childhood, Eric knew he wanted to hone his talent in college after performing in local musicals. At Drake, Eric discovered a love for classical music and began to cultivate his voice for the operatic repertoire.
"Opera is an amazing, thriving art form," says Eric. "It's a joy to breathe life into the beautiful works of the past."
An Operatic Debut
During his time at Drake, Eric was involved in the Drake Choir, Chamber Choir, and the Drake Opera Theater, where he performed as lead tenor in several opera performances such as The Elixir of Love and The Mikado. While assistant music directing for a production of Stephen Sondheim's A Little Night Music, Eric was asked to conduct.
"I thought, 'Sure! That's awesome!'" recounts Eric. "Little did I know how much work it was going to be."
From selecting members, coordinating rehearsals, and leading both the orchestra and singers, Eric certainly had his work cut out for him. But despite long rehearsals and a sustained commitment, Eric emerged with a new, sophisticated appreciation for his craft.
"It might have been one of the most rewarding experiences I have ever had," says Eric. "I realized I had a love for conducting and leading the musical process as well."
Shortly before graduating, Eric was chosen to be one of only 16 singers worldwide to take part in the Houston Grand Opera Young Artist Vocal Academy. Here, he was able to meet with the administration, take classes, explore his growth as a singer, and see behind the curtain of the opera world.
The Next Aria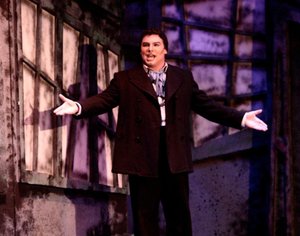 These experiences inspired Eric to pursue his Masters in Opera Performance from The Boston Conservatory in the fall, and enabled him to obtain a position as a Studio Artist at the prestigious Wolf Trap Opera. His ultimate ambition is to be an international opera singer.
Eric is grateful for his ENF scholarship which allowed him to pursue his passions and develop himself as an artist.
"Music is what you turn to when the spoken word is not enough," says Eric. "The Elks National Foundation allowed me to pursue my dreams. I would not be the artist or man I am today without the generosity of the ENF. My thanks go to you forever."
To learn more about Eric and his work, and to listen to recordings of his performances, click here to visit his website.
For 2014-15, the Elks National Foundation allocated $2.44 million to fund the Most Valuable Student scholarship program, which includes 500 four-year Most Valuable Student Scholarships. For more information about the Most Valuable Student scholarship program, including eligibility and deadlines, visit www.elks.org/enf/scholars.