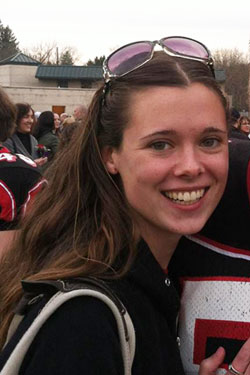 Succeeding at a top university takes brain power. Helping others comes from the heart. For
Emergency Educational Grant
recipient Anne Vande Velde, they go hand in hand.
Anna, sponsored by Dunkirk, N.Y., Lodge No. 922, is a senior at Carnegie Mellon University where she studies psychology and cognitive neuroscience. She plans to help people through clinical psychology.
"Working with and helping people with learning disabilities and cognitive impairments has always been a passion of mine," says Anna.
A Blessing Paid Forward
Anna is grateful to the Elks for the financial support that enabled her to attend her dream college after her father passed away.
Without the Elks' support, "I would either have to work six jobs instead of four, or take out student loans," explains Anna. "I will forever be grateful for the blessing the ENF scholarship has been."
Between balancing work and academics, Anna has found time to give back to her community. As a mentor for Growing Theater, Anna helps at-risk children express their creativity through writing and producing their own original plays. She also interns at an organization leading therapeutic activities for children with autism.
Honoring Life, Pursuing Dreams
For Anna, her Emergency Educational Grant means much more than money for college.
"I will never be able to say thank you enough for the legacy this scholarship gives my father's name. I see the support that the Elks give me as a special way to honor his life," says Anna. "The Elks have made me feel supported and I appreciate the investment you have made in my life and in my dreams."
In the future, as she helps people with cognitive impairments, Anna will be honoring both her father and her Elks family.
In 2014-15, the Elks National Foundation allocated $300,000 to fund the Emergency Educational Grant program for children of deceased or totally disabled Elks. If you know any Elks children who may be eligible to receive an Emergency Educational Grant, encourage them to visit www.elks.org/enf/scholars for information, including eligibility and deadlines.