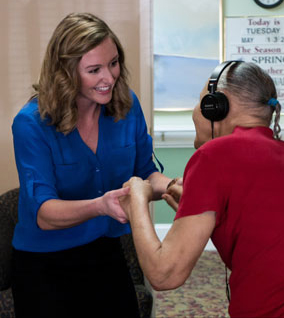 Join us in welcoming the 2014 Elks Alum of the Year—Kelly Ryan Murphy! Murphy, a 2009 Most Valuable Student scholar sponsored by Sponsored by Sun City, Ariz., Lodge No. 2559, recently embarked on her journey at Duke University Medical School.
Music and Memory
She hopes to dedicate her life to service through medicine, which is already evident in her work with the Music and Memory chapter at Duke. The program brings personalized music to assisted living centers in Durham.
"After discussing the issue of memory decline with a physician mentor, she introduced me to the idea of non-medicinal therapies for elderly people with memory impairment," says Murphy. "We discussed how music has been shown to improve the level of engagement these patients."
As the Alum of the Year, Murphy will receive a $500 grant, which she has chosen to donate to the Music and Memory chapter at Duke.
"I have heard a formerly mute resident sing along and I have watched a tearful woman begin dancing with the biggest grin I have ever seen," says Murphy. "I hope the Music and Memory chapter at Duke will be a sustainable movement that can reach more residents of Durham who deserve not to be forgotten."
Researching Recollections
While service is her highest priority, Murphy also serves as the Editor-in-Chief for the Duke Science Review and spends much of her time researching memory decline and early Alzheimer's detection with PET imaging.
All of this would not be possible without the Elks National Foundation, which helped Murphy not only through undergrad but also medical school. In addition to her Most Valuable Student scholarship, Murphy is the recipient of a $20,000 Gunther & Lee Weigel Medical School Scholarship.
"The Elks scholarships I have received have inspired a spirit of service and community in my daily actions and future plans," says Murphy. "Because of the Elks I am proud to consider success both in terms of how well I do for myself, but also how well I do for others."
With her passion and dedication to serving others, we know Murphy will continue to be more than successful!
As the 2014 Alum of the Year, Murphy will serve a one-year term on the Elks Scholar Advisory Board, and she will travel to the Elks National Convention in New Orleans this July to accept her award.
In 2014-15, the Elks National Foundation appropriated $4.06 million to fund the ENF scholarship program, which provides college scholarships, ensuring a bright future for our nation's youth. For more information about our scholarship programs, and for ways Lodges can get involved with Elks scholars, visit www.elks.org/enf/scholars.