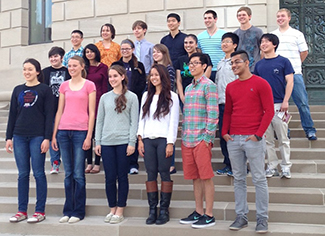 What do you get when you mix Apples to Apples, a scavenger hunt, a cruise on Lake Michigan, and a few Taylor Swift songs? An Elks Family!
The top 20 Most Valuable Student scholars descended on Chicago on Friday, April 25, and embarked on a weekend filled with joy, laughter and fun. While these top 20 scholars were in town to interview for a $50,000 scholarship, the weekend became so much more, and all left with priceless memories of their new Elks family.
Getting to Know the Elks
The scholars jumped in on Friday by getting to know the Elks through a scavenger hunt at the Elks Veterans Memorial. They rushed around the building trying to find out where the Hoop Shoot started and who sculpted the statues in the Rotunda—all the clues gave them a glimpse into who the Elks are and how they build stronger communities across America.
After working up an appetite, they indulged in some Chicago-style pizza and played a competitive game of team trivia (anyone know what Krypton means in Greek? The Elks scholars do!).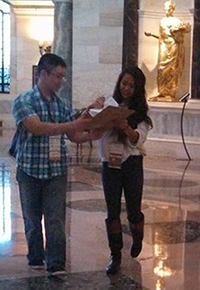 The Elks scholars woke Saturday morning and anxiously prepared for their interviews with a panel of national judges. By being invited to Chicago, all 20 scholars were to receive a $20,000 scholarship, however they interviewed for a chance at a top award of $30,000, $40,000 or $50,000! In the end, Eric Kim, sponsored by Bessemer, Ala., Lodge No. 721, and Autumn Pack, sponsored by Chillicothe, Ohio, Lodge No. 52, walked away with the top scholarships of $50,000. Click here to see the full results.
"Thank you so much for opening up so many doors for me as I transition into college, for freeing my parents from the financial burden of sending me to college, and for selecting me for such a prestigious honor and sending me to Chicago—a place I've dreamed of going for a long while!" says Eric.
Giving Back
When their nerves calmed down after the interviews, the scholars set off on a service trip at the Jesse Brown VA Medical Center. There, they paired up with veterans and played trivia once again, this time with a military theme. Before leaving, they visited patients in the long-term-care unit and expressed their gratitude for all that the veterans had done for our country.
The wonderful weekend ended with a dinner cruise on Lake Michigan. The 20 scholars, all of whom were best friends by now, celebrated by dancing the night away with the sparkling city lights in the background.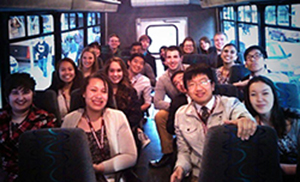 "Thank you so much for an amazing weekend," says Autumn, "The other Elks scholars and I are excited to have met each other and already love our Elks family!"
With the weekend just about over, the scholars headed back to the hotel for several more rounds of board games. In the end, the scholars found it hard to leave their new-found Elks family, but we know this is just the beginning of their journey with the Elks. We look forward to seeing how they'll get involved in the years to come.
"Thank you so much for this opportunity," says BreAnna Legan, sponsored by Lebanon, Mo., Lodge No. 2557. "It has really made such a difference. The weekend has been an incredible experience that I'm so thankful I was able to take part in."
Click here to view all the photos from the weekend!
We look forward to meeting up with Eric and Autumn again at the Elks National Convention in New Orleans this July!
In 2014-15, the Elks National Foundation allocated $2.44 million to fund 500 four-year Most Valuable Student Scholarships, which feature 20 top awards of at least $20,000. For more information about the Most Valuable Student scholarship program, including eligibility and deadlines, visit www.elks.org/enf/scholars.