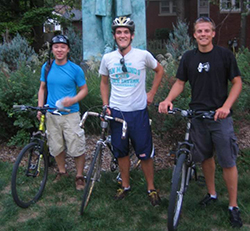 Elks scholars have a knack for knowing how to strengthen their communities. For Bryce Davis, this meant sharing his passion for bikes with others.
Bryce, an Emergency Educational Grant recipient sponsored by Pontiac, Ill., Lodge No. 1019, is a senior at the University of Illinois Urbana-Champaign, where he studies Natural Resources and Environmental Sciences. His academic interest stems from a passion for conservation and sustainable development, which he has channeled into volunteer work by promoting biking in the Urbana-Champaign community.
Thanks to his Emergency Educational Grant, Bryce has been able to pursue his passions for biking and community involvement throughout college, which has shaped his dreams for the future.
Cycles for Community
Shortly after his arrival on campus, he became involved with The Bike Project, a nonprofit community organization that advocates for bikes in Urbana-Champaign. The organization offers space, tools, and community to repair bikes and educate the community.
"I have worked as an organizer for a weekly Friday ride where we welcome all people and bikes for a sub-ten-mile ride around the city demonstrating safe traffic cycling techniques," explains Bryce.
Cycles for Charity
Bryce also engages in other charitable initiatives– all from the seat of his bike.
He is a mechanic for the Campus Bike Shop, where he instructs students and community members about bicycle repair and maintenance. He also founded a student organization to promote the eco-friendly transportation and exercise biking provides.
"BikeFace, as the club came to be known, seeks to enact social change through bicycles and donate time to the student body by fixing bicycles during our flagship event, Bike Fix-it Days," he explains.
Biking into the Future
Bryce's experience with community service, coupled with his interest in biking and environmental conservation, has greatly steered his future plans. He now looks forward to a career helping others through community service.
"I find community development to be a particularly interesting and fulfilling line of work," says Bryce. "The idea of linking my studies in environmental science and experience with non-profits is an especially exciting prospect for my future."
A Family of Scholars
Bryce, whose older brothers were also recipients of the Emergency Educational Grant, gives thanks to the Elks for the financial support which has allowed him to attain his personal and educational goals while giving back to the community.
"The ENF has provided a lot of financial support helping my two brothers and myself to complete our college educations," explains Bryce. "Due to the help I've received from the Elks over the years, I can approach my coming opportunities on more stable financial ground." With his passion for the community and the assistance of his Elks scholarship, Bryce's path ahead is looking like a smooth ride.
In 2013-14, the Elks National Foundation allocated $300,000 to fund the Emergency Educational Grant program for children of deceased or totally disabled Elks. If you know any Elks children who may be eligible to receive an Emergency Educational Grant, encourage them to visit www.elks.org/enf/scholars for information, including eligibility and deadlines.