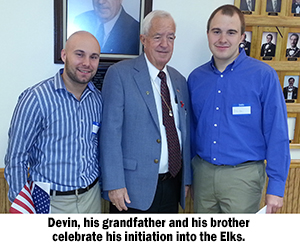 Devin Noonan is a 2008 Legacy Awards recipient sponsored by Asbury Park-Wall, N.J., Lodge No. 128. Devin, a recent Rutgers alum, has been involved with the Elks all his life, including serving on the Elks Scholar Advisory Board. This fall, he became a member of the Herkimer, N.Y., Lodge No. 1439. Read what this experience meant to him.
For as long as I can remember, the Elks have been a major part of my life. When I was younger I'd travel to upstate New York to visit family. Without fail this would mean visiting my Elks family as well.
From the countless Friday night dinners at the Herkimer Lodge, and the immense support at my grandfather's inauguration as New York State President, to the blessings and comfort I received from members after my grandmother passed, the Elks have always been there.
For me, it was never a question of whether I'd join the Elks, it was just a matter of when.
This past fall, I was finally able to join alongside my younger brother. My immediate family was in attendance to witness our big day. To say it was a proud moment for our family as a third generation of Noonan's made their way into the Order would be an understatement.
While there are so many great benefits to being an Elk, I have to say that there are a few that stand out to me above the rest.
The amount of charitable work the Elks do is nothing short of amazing.
As a recent graduate who has just started paying off his college loans, I appreciate the ENF Legacy Award scholarship I was so fortunate to receive now more than ever.
Whether it's awarding scholarships, helping with local soup kitchens, supporting our troops overseas, or providing aid to disaster relief funds, when help is needed you can always rely on the Elks to answer the call.
When it comes to joining the Elks, you aren't simply joining a national organization. You're joining a tight-knit family and forming a bond that will last a lifetime. Your experience in the Elks will only be as good as you make it, but the opportunity is certainly there to make it something special.
The Elks National Foundation provides $3.74 million in college scholarships each year. Today's Elks scholars can be tomorrow's Elks. Be sure to include Elks scholars from your Lodge in Lodge events and service projects. For more information about our scholarship programs, and for ways Lodges can get involved with Elks scholars, visit www.elks.org/enf/scholars.