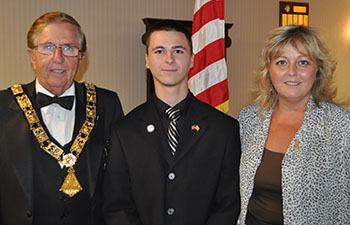 Elks scholars across the country know they can count on their Elks family for support. For Joel Hagenburg, his Elks family is close at hand and is helping him obtain his educational dreams. This is only one of the reasons he has decided to become an Elk himself.
Joel, a 2013 Emergency Educational Grant recipient sponsored by Coventry-West Greenwich, R.I., Lodge No. 2285, is currently obtaining his bachelor's degree in Criminal Justice from the New England Institute of Technology. He plans to give back to his community by becoming a law enforcement officer.
"Without this grant, none of this would be possible," says Joel.
A Family Affair
Joel's mother and sponsor, Donna Hagenburg, is a third generation Elk, and a proud member of Lodge No. 2285 – along with her father, grandfather, brothers, and uncle.
"I became an Elk to carry on the family tradition and to do as my family has been doing for many, many years," says Hagenburg.
She has been particularly involved with veterans' programs, including acting as the National Service Chairperson for her Lodge and receiving the Grand Exalted Ruler's Outstanding Service Commendation. She was named Veteran Volunteer of the Year by the Rhode Island State Elks Association, for her work with veterans and the Adopt-A-Vet program.
Like Mother, Like Son
Joel inherited his mother's love of the Elks and commitment to service. He spent many years volunteering with Elks programs, including the veterans' programs and various community projects.
"It's only natural for him to want to continue the good work by becoming an Elk himself," says Hagenburg.
Joel continued his family legacy by becoming a fourth generation Elk, with his mother in attendance and his grandfather conducting the orientation.
"It made Joel's initiation into the Elks even more special for us," says Hagenburg.
The Promise of Education
Joel and his mother are thankful for the support the Emergency Educational Grant has given them over the last few years to help Joel obtain his education.
"Without this grant I would not have been able to continue my education," says Joel. "College is very costly, so I owe everything to the Elks."
Joel is excited to obtain his degree and begin his career in law enforcement and hopes to one day serve his country as a federal agent for Homeland Security.
"Thank you again to the Elks, for making it possible for Joel to not only attend college, but excel at it," says Hagenburg. "We are so grateful."
In 2013-14, the Elks National Foundation allocated $300,000 to fund the Emergency Educational Grant program for children of deceased or totally disabled Elks. If you know any Elks children who may be eligible to receive an Emergency Educational Grant, encourage them to visit www.elks.org/enf/scholars/eefgrants.cfm for information, including eligibility and deadlines.