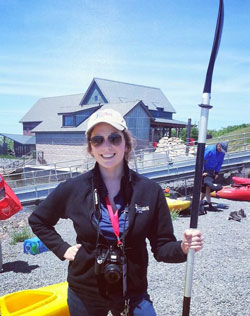 For Elks scholars, the drive to work hard and give back to others comes naturally. This is certainly true for 2010 Legacy scholar Blaire Sambdman, who spent her summer helping wounded and disabled veterans re-engage in civilian life through sports.
Sponsored by Dixon, Ill., Lodge No. 799, Blaire is in her senior year at the University of Illinois at Urbana-Champaign, where she studies Health Administration and Planning and Health Promotion and Education. Supported by her Legacy Award, she hopes to use her education to give back to others within her community.
Helping America's Veterans
Blaire's interest in health and wellness, coupled with a passion for helping others, led her to intern for Disabled Sports USA in Rockville, Md., a national nonprofit that works to change and rebuild the lives of people with disabilities through sports. Blaire was particular attracted to the Warfighter Sports Program, which provides free sports and rehabilitation programs for severely injured military members and veterans and helped organize events for wounded veterans to participate in adaptive sports.
"Before sports, they were inactive, depressed, and felt out of touch with society," explains Blaire. "Following their participation with the Warfighter Sports Program, they felt engaged, and many went back to work without their disability defining their lives."
Returning Home
Although Blaire enjoyed her time helping veterans this past summer, she is back at the University of Illinois to finish her degree and ultimately hopes to give back to the community she calls home.
"I plan to return to my hometown of Dixon. I greatly believe in giving back to one's community," says Blaire. "Dixon has provided me with endless support and encouragement and I feel I can help my community by sharing my knowledge of health and wellness."
Continuing the Legacy
Blaire continues to live the example of her late father, a longtime Elks member, who instilled in her the values of hard work, the importance of community, and the pursuit of perfection in everything she does.
"I have grown up in and around an Elks Lodge my entire life," says Blaire. "Many of the best people I know are members of an Elks Lodge. After my father passed, my local Elks Lodge remained supportive and caring toward my family. After I graduate, I look forward to continuing a relationship with the Elks."
In 2013-14, the Elks National Foundation allocated $1 million to fund scholarships for the children and grandchildren of Elks. If you know any Elks children who are high school seniors, encourage them to visit www.elks.org/enf/scholars for information, including eligibility and deadlines.