In 2012, the Elks National Foundation awarded four $500 Cornerstone Grants to partner with Elks scholars in service to their communities. Read how two Elks scholars used these grants to help build stronger communities!
Cattle Call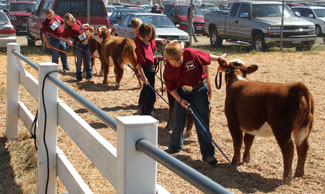 For most high school students, cattle is the last thing on their mind. Alyssa DuVal set out to change that by giving students the opportunity to learn responsibility and leadership through cattle showmanship.
Alyssa, 2008 Most Valuable Student scholar sponsored by Silverton, Ore., Lodge No. 2210, used her 2012 ENF Cornerstone Grant to support the Willamette Valley Miniature Hereford Lease Program, which teaches participants the ins and outs of cattle exhibition—something Alyssa, having grown up on a farm, knows well.
"Knowing how essential agriculture is, I wanted to provide high school students with an opportunity to gain hands-on experience with an agricultural industry with which I have been involved," says Alyssa.
Pairing Up
The program began in May 2012, with each of the nine members picking their very own animal. Each member was required to work with the cattle at least three times a week throughout the summer. During this time, they learned about safety, proper grooming and bathing techniques, cattle exhibition, and beef production.
"These elements are crucial to master when competing against other cattle breeders and vying for championships at livestock shows," says Alyssa.
A Little Friendly Competition
All their training culminated in competitions at the Oregon FFA State Fair and the Pacific Northwest Regional Miniature Hereford shows. The participants left the program with a great sense of accomplishment, and honed their leadership and responsibility skills.
"We were all honored by the Elks recognition and support of the program," says Alyssa.
And we're proud that Alyssa was able to spread her knowledge of agriculture to other students who might not have the means to do so on their own. We can't wait to see what this summer brings!
Stirring up Healthy Ingredients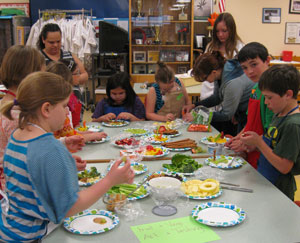 Kids might not jump at the idea of cauliflower pizza, but Kimber Mattox found a way to make healthy food exciting.
Kimber, a 2007 Most Valuable Student scholar sponsored by Bend, Ore., Lodge No. 1371, held a healthy cooking event for children ages 7 to 14. Over their Spring Break (and during National Nutrition Month), Kimber took over a high school culinary classroom to teach children about healthy eating—an issue close to her heart.
"I think children's health is an extremely critical issue in all communities," says Kimber. "I've worked in the health and research fields for the past several years and have seen the negative impacts of poor nutrition on all ages."
Cooking Up a Storm
They wasted no time getting down to business. After decorating their very own aprons, they learned how to make healthier versions of kid favorites, including cauliflower pizza, brownies with avocado frosting, and fruit salsa.
"The kids worked hard and did a great job preparing their recipes," says Kimber. "They were very proud to present what they made to the rest of the group."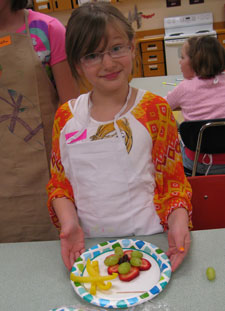 A Healthy Start
At the end of the day, they headed out armed with healthy recipes, full stomachs, and ingredients to keep cooking. Kimber even overheard one participant say, "Mom, can I make lunch for everyone when we get home?"
Kimber was grateful for the Elks National Foundation's support and for partnering with her in service.
"I can't thank the Elks National Foundation enough for recognizing the importance of health and nutrition for kids and for supporting this project," says Kimber.
The Elks National Foundation provides $3.74 million in college scholarships each year. Today's Elks scholars are tomorrow's Elks. Be sure to include Elks scholars from your Lodge in Lodge events and service projects. For more information about our scholarship programs, and for ways Lodges can get involved with Elks scholars, visit www.elks.org/enf/scholars.