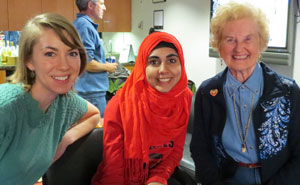 They've talked over the phone and written letters for months, but on March 2, Lindsay Poston and Eraj Din had the chance to meet the woman who made their dream come true.
Lindsay and Eraj, who attend medical school in Chicago, each received a 2012 Gunther & Lee Weigel Medical School Scholarship. When Mrs. Weigel came to the Windy City, they had the unique opportunity to meet her in person at a Chicago Bulls Game.
"It was such a special day," says Eraj. "It was wonderful finally getting to meet Mrs. Weigel!"
Mrs. Weigel established the Gunther & Lee Weigel Medical School scholarship to help Elks scholars pursue a career in medicine after she lost her husband of 51 years in November 2009. Gunther was a longtime member of Miami, Fla., Elks Lodge No. 948, and was passionate about the Foundation's scholarship programs. When the scholarship was established, Mrs. Weigel didn't know she'd have the opportunity to meet some of the recipients in person.
Last year, Mrs. Weigel made a phone call to Eraj and Lindsay to let them know they won the scholarship. From then on, Mrs. Weigel kept in touch with them through phone calls and letters—so the opportunity to meet face-to-face was even more meaningful!
"After months of phone and mail correspondence, it was wonderful to finally meet Mrs. Weigel—to put a face to the generosity I've been so fortunate to receive," says Lindsay. "And getting to connect with a fellow Elks scholar was just the icing on the cake!"
Both scholars are in their first year of medical school. Eraj is studying neonatal care at Rosalind Franklin University of Science and Medicine and Lindsay is studying internal medicine and pediatrics at Pritzker School of Medicine at the University of Chicago.
After a night of chatting and watching the Bulls win, Mrs. Weigel, Lindsay and Eraj left knowing each other much better. Now, next time they write a letter to each other, it will mean so much more.
The Elks National Foundation is pleased to once again offer this exclusive scholarship opportunity just for Elks scholars for the 2013-14 academic year. The $20,000 Gunther & Lee Weigel Medical School Scholarship will go to six Elks scholars (current or alum) entering the first year of medical school in 2013-14. If you know of an Elks scholar headed to medical school, please inform him or her of this opportunity, or let us know by emailing scholarship@elks.org.