Growing the Elks Family
Within the Elks family, no relationship is as formative as that of an ENF donor and an Elks scholar. The MVS Named Scholarship Program brings scholars and donors together personally—scholars learn firsthand of the Elks while donors share in the scholars' journeys.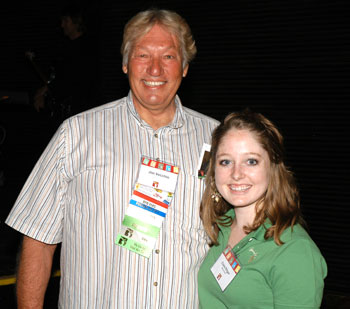 For Jim Vecchio of La Habra, Calif., Lodge No. 2095, naming an MVS scholarship offered him a direct connection to the ENF program he supports, and also to a school he loves—the University of Notre Dame.
"It's special to hear from these scholars so often," says Vecchio. "They are top-notch."
Vecchio has named two MVS scholarships, the first of which comes to completion this year. As Clara Ritger, the initial recipient of The James A. Vecchio Most Valuable Student Scholarship, wraps up her undergraduate career, she affirms how influential the Elks family has become for her.
"Someday, Elks Lodges will be filled with people like me," says Ritger, a 2009 MVS Named Scholarship. "Eventually, all of us who grew up with email and Facebook will realize that we can only do so much good in the world in front of a computer. And Elks Lodges are a perfect place to start building a community."
MVS Named Scholarship donors name one or more national runner-up Most Valuable Student scholarships and correspond regularly over four years with the scholar(s) receiving it. For more information, visit www.elks.org/enf/namedscholarship.cfm.
---
Back to top