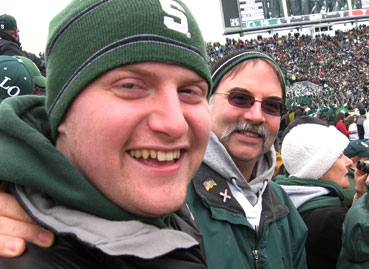 When John Pickard, a member Escanaba, Mich., Lodge No. 354, learned that his son, Alex, received a 2010 Legacy Awards scholarship sponsored by the Escanaba Lodge, he knew that their family's tradition of giving back to their community would continue for another generation.
Currently a junior at Michigan State University studying criminal justice, Alex is part of the Security Management program at MSU and frequently attends campus security meetings. He also serves as house manager at his school's chapter of the Alpha Tau Omega fraternity.
Grateful for his ENF scholarship, Alex strives to do his best in school.
"The Elks have invested in my future and are helping me to achieve my educational goals," he says. "Because of that, I do not take the opportunities I am offered for granted."
A Family Affair
Alex is very involved with the Boy Scouts of America and has achieved the highest scouting rank of Eagle Scout. He also volunteers at his hometown Lodge, handing out red ribbons to youth during Drug Awareness events. Most recently, he volunteered at the Lodge's December steak dinner.
Thanks to growing up with the Elks, serving the community has always been a priority for Alex.
"Involvement in the Elks has taught me the importance of giving back to my community and helping the less fortunate," he says.
Without a doubt, Alex inherited his charitable spirit from his father. In the Escanaba Lodge, Pickard holds many offices. He is a Past Exalted Ruler and a Trustee. He also works with the ENF, serving as Scholarship Chair and managing Community Investments Program grant projects.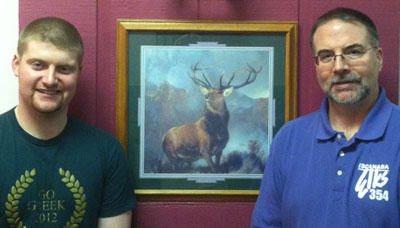 Upcoming Elk
What's in Alex's future? Joining the Elks! When he turns 21, Alex plans to join the Escanaba Lodge, which has supported him throughout his childhood and through his college journey.
"The ENF provided Alex with a chance to become a leader of tomorrow," Pickard says. "I would love for him to give back and join the Elks in the future."
When Alex joins the Elks, he will be a third generation member, joining his father and grandfather in building stronger communities.
In 2012-13, the Elks National Foundation allocated $1 million to fund scholarships for the children and grandchildren of Elks. If you know any Elks children who are high school seniors, encourage them to visit www.elks.org/enf/scholars for information, including eligibility and deadlines.