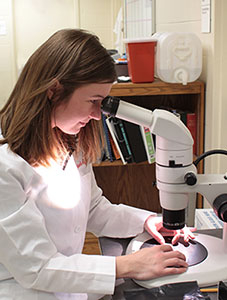 Having seen drugs and alcohol take over people she loved, Elks scholar Jamie Toalston made it her mission to find out why.
"As a teen, I struggled to understand why drugs and alcohol were changing the people I thought I knew," says Elks scholar Jamie Toalston. "I couldn't fathom why anyone would lie or steal to get money for pills, powder or a bottle. I didn't know why these inanimate things held such power to hurt my family."
For Toalston, attending college provided answers to many of the questions she asked herself growing up.
"When I went to college, my biology and psychology classes offered some answers," says Toalston. "These substances change the way the brain works."
Thanks to her 1998 Most Valuable Student scholarship sponsored by Salem, Ohio, Lodge No. 305, Toalston studied at Coe College where her science courses instilled in her a love of research.
A Thirst for Knowledge
While her education started to put her family's struggles with addiction into context, that wasn't enough for Toalston. She needed more answers.
"There are many answers that don't yet exist," says Toalston. "Like how do we stop craving? How can I make my friend normal again?"
To cure her curiosity, Toalston pursued a doctorate in addiction research. Now, Toalston is a Post-Doctoral Fellow at the Indiana University School of Medicine where she manages a laboratory and performs research to bring new treatments to light. The lab is funded by the National Institute on Alcohol Abuse and Alcoholism, and encourages collaboration with other researchers across the country.
Passing the Torch
When she's not in the lab, Toalston occasionally has the chance to speak to high school students about going into the field of science. She shares her story with other girls who grew up like her.
"As a female from an economically depressed background, one of the simplest things I can say is, 'I've been in your shoes. I was you. You can do this too!'" says Toalston.
Just as Toalston motivates others to pursue their dreams, the Elks helped her pursue her dreams not too long ago.
"Knowing there was a community of support was essential to my courage to reach for higher goals," says Toalston. "The ENF believed in me, which gave me the strength to believe in myself."
In 2012-13, the Elks National Foundation allocated $2.296 million to fund the Most Valuable Student Scholarships. For more information about the Most Valuable Student scholarship program, including eligibility and deadlines, visit www.elks.org/enf/scholars.