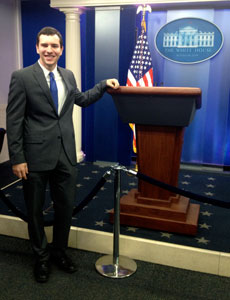 For students who study government, working in our nation's capitol is the gold standard. 2010 Most Valuable Student scholarship recipient Brandon DeBot, sponsored by Stevens Point, Wis., Lodge No. 641, already knows what it's like to work in Washington, D.C.
Brandon, a junior at Dartmouth College, interned for the White House National Economic Council last fall.
Being accepted to the White House Internship Program solidified Brandon's desire to study government and public policy.
"Because of the fiscal cliff, many of the projects I worked on are very relevant to the current policy environment," says Brandon. "It gave me the opportunity to really understand the strengths and weaknesses of the country's economic policies."
Brandon is grateful for his ENF scholarship, which he credits for giving him the confidence and opportunity to pursue his passions.
"Being an Elks scholar signifies a commitment to using education for personal development, and to leaving the world a better place than I found it," says Brandon.
As for his future plans, Brandon says, "I hope to pursue a career in public policy to help shape solutions to major policy issues that we will face in the coming years."
We are sure his time in Washington is just the first step in Brandon's successful public policy career.
In 2012-13, the Elks National Foundation allocated $2.296 million to fund the Most Valuable Student Scholarships. For more information about the Most Valuable Student scholarship program, including eligibility and deadlines, visit www.elks.org/enf/scholars.