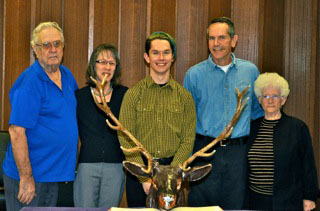 Benjamin Waugh comes from a long line of extraordinary Elks, so it's no surprise that when he turned 21, he joined his hometown Elks Lodge and kept the tradition going.
"The Elks have been a huge part of my life for as long as I can remember, not only through events, but on a personal level as well," says Benjamin. "I never questioned joining."
Surrounded by his proud Elks family, Benjamin joined Goodland, Kan., Lodge No. 1528, earlier this month.
"I was elated!," says Zona Price, Benjamin's grandmother and Secretary of the Goodland Lodge. "What an honor to see him initiated. He is a fine young man and deserves to be called an Elks scholar and now an Elks member."
Deep Gratitude
In 2010, Benjamin received a 7th place Most Valuable Student scholarship sponsored by the Goodland Lodge. Benjamin is excited to be an Elk and give back to the organization that is helping him achieve his dream of studying theater at Kansas Wesleyan University.
"Getting 7th place nationally for the Most Valuable Student scholarship is still one of my biggest achievements," says Benjamin. "It's such an honor to have the recognition of a group that has done so much for my family and me."
Keeping a Promise
Although Benjamin recently joined the Order, he has been giving back to the Lodge all his life. From helping at Hoop Shoot contests, to volunteering at Flag Day ceremonies; from maintaining the Lodge facilities, to calling numbers at Bingo—Benjamin has volunteered at just about every Lodge event.
"Ben has grown up volunteering at our Lodge," says Price. "When he won the scholarship, he told me that he would give back by becoming an Elk when he was 21—and he never forgot that promise!"
Paying it Forward
Now a newly initiated member of the Elks, Benjamin has some advice for other Elks scholars thinking about joining.
"Why not join?," says Benjamin. "It's a group that has done something extraordinary for you. It's a group that helps thousands of people and you can be extraordinary with them."
As a fourth-generation Elks member, we know Benjamin will carry on the tradition of building stronger communities in his own extraordinary way.
In 2012-13, the Elks National Foundation allocated $2.296 million to fund the Most Valuable Student Scholarships. For more information about the Most Valuable Student scholarship program, including eligibility and deadlines, visit www.elks.org/enf/scholars.