The 2013 Legacy Awards deadline is February 1, 2013. Every Friday leading up to the deadline, we'll feature a current Legacy Awards recipient and hear how the Elks National Foundation helps him or her achieve the dream of attending college. Check back each week for a new story. ENF Legacy Awards are available online to any high school senior who is the child or grandchild of a dues-paying Elks member who joined the Order before April 1, 2010.
Click here
for more information.
Week 4: Seizing the Day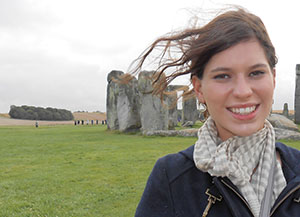 The Lincoln Memorial. The Capitol Building. The Washington Monument. These iconic structures have been the backdrop of Meghan Fort's college years. When she arrived in Washington D.C. to study at American University three years ago, she wasted no time seizing every opportunity the city has to offer.
After she graduates in May with a degree in International Relations, Meghan plans to find a job in the counter-terrorism field. Receiving her 2010 ENF Legacy Award, sponsored by Charleston, S.C., Lodge No. 242, was vital in helping her prepare for her career.
"Only in Washington, D.C. can I have amazing internship opportunities and classroom experiences which will assist my long term career goals," says Meghan. "Receiving an ENF Legacy Award meant that I could attend a school with one of the best International Relations programs in the country, and offered me a chance to accomplish goals which no one else in my family has had the opportunity to do."
But it isn't all work and no play for Meghan. She's an active volunteer on her school's Student Union Board, which brings musical acts to campus. And she recently spent three months studying in London.
A Penny for her Thoughts
As a current Legacy Awards recipient, Meghan has some advice for this year's eager applicants.
"I would advise 2013 applicants to write their application essays on unconventional topics," says Meghan. "I wrote about my experiences playing Bingo with my grandparents at their local Lodge, highlighting my sense of community with the Lodge in a personal way."
We know that after she graduates, Meghan will go on to seize every opportunity that comes her way.
Week 3: Living for Others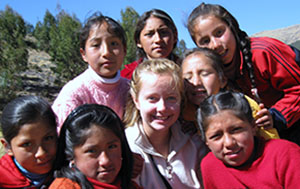 Dispensing medication and checking vitals might not be your ideal day at work, but for Litahni Post-Bentham this was a day that changed her life.
After shadowing a Physican's Assistant during her senior year of high school, Litahni knew where she wanted life to take her. After spending one day in the health care field, she immediately applied to Montana State University's Nursing Program.
Now, three years later, Litahni is a Certified Nursing Assistant and living out her dream of helping others.
"I recently worked at an assisted living center and genuinely enjoyed caring for the residents," says Litahni. "Seeing how grateful and appreciative they were showed me that I chose the right field."
Giving Back to the Community
After she graduates in 2014, Litahni plans to start her career as a nurse and then pursue a Physician's Assistant degree. Her drive to help others was in part inspired by her experience with the Elks. Litahni received a 2010 Legacy Award sponsored by Missoula Hell Gate, Mont., Lodge No. 383.
"I know that giving back to the community is an important Elks' value and I am able to do so by caring for people when they are feeling their worst," says Litahni. "I will be forever thankful to the ENF and I am proud to be an Elks scholar."
Paying it Forward
Litahni has some advice for others looking to become Elks scholars as they apply for the 2013 ENF Legacy Awards.
"Just be honest and give the application your best effort," says Litahni. "I know that high school seniors can get bogged down with all they have to do to prepare for college, but it really is worth the time to apply for a Legacy Award scholarship. The ENF is extremely generous and being an Elks scholar is an honor."
Always wanting to pay it forward, she adds, "If they do choose you, support to your community in the way that ENF supports you and you will demonstrate what an Elks scholar truly is."
Now she'll spend her life dispensing medication, checking vitals, and making a real difference in patients' lives.
Week 2: Reporting from Harvard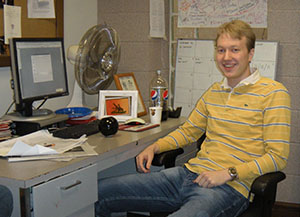 Although he is about to embark on his last semester at Harvard, William Bergstrom is as busy as ever. As the Editorial Chairman of The Crimson, Harvard's daily newspaper, he spends most of his time at his desk. Despite his busy schedule, William never forgets his ENF Legacy Award that helped put him in that seat.
"My Legacy Award not only helps pay for my education, it symbolizes a connection to an organization that I've respected for my whole life," says William. "I grew up in rural North Dakota. My Legacy scholarship is an opportunity for me to stay connected to the Elks while I'm at college."
William received a 2009 Legacy Award sponsored by Devils Lake, N.D., Lodge No. 1216. After heading off to college, he immediately got involved with The Crimson.
"I've been on The Crimson since my freshman year, and in that time I've enjoyed helping our editorial staff cover everything from a campus offshoot of the Occupy movement to the return of ROTC to campus after a 40-year hiatus," says William.
Having written numerous pieces for The Crimson, William has some advice for those writing essays and filling out their 2013 Legacy Awards applications.
"Proofread your application!" says William, always the editor. "Regardless of what scholarships you get or where you go to school, try to find an exciting and rewarding extracurricular. My experience at college would not have been as fun and challenging without my involvement with The Crimson."
After graduating this spring with an English degree and a minor in Classics, William plans to attend law school. With the support of the Elks family behind him, we know William will go far. Keep watching the headlines to see where William's experiences take him!
Week 1: To NASA and Beyond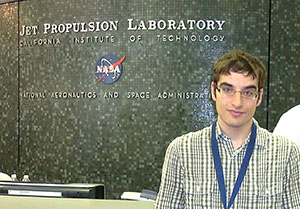 As a high school student in Brooklyn, Matthew Conte dreamt of majoring in Computer Science and working for NASA. Now a senior at Polytechnic Institute of New York University, Matthew spent last summer in Pasadena, Calif., developing software at NASA's Jet Propulsion Laboratory.
"I worked on the EPOXI mission, which is a probe used to get close-up photos of deep-space objects like galaxies," says Matthew. "Some of the code I wrote was actually sent up in the spacecraft!"
Matthew recognizes he could not have soared this far without his Elks family. His 2009 Legacy Award, sponsored by Brooklyn Queensborough, N.Y., Lodge No. 878, helped him achieve his dream of going to college, and connected him to the Elks family.
"I was proud to receive my ENF Legacy Award," says Matthew. "I felt like I was honoring my grandfather, a member of the Brooklyn Queensborough Lodge, with this accomplishment.
Having gone through the application process, Matthew has some advice for this year's Legacy Awards applicants.
"Make sure your application is not only complete and accurate, but also reflects your personality," he says. "You aren't just a name on a page, but an individual with dreams and goals."
Matthew is thankful to his Elks family for helping him achieve his own dreams and goals. Matthew will graduate this year, and we know for him the sky's the limit! Apparently, dreams do come true.
In 2012-13, the Elks National Foundation allocated $1 million to fund scholarships for the children and grandchildren of Elks. If you know any Elks children who are high school seniors, encourage them to visit www.elks.org/enf/scholars for information, including eligibility and deadlines.