Elks National Foundation scholarships offer much more than financial help—they provide a family. Elks scholars across the country are getting to know their Elks family by meeting up at Lodges near their college campuses. Here are two stories of Elks scholars gathering with their Elks family.
A Little Austin Hospitality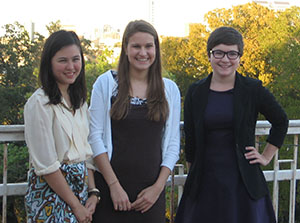 In mid-October, ENF staff members attended a scholarship conference in Austin, Texas. While there, we had the privilege of joining three Elks scholars from the University of Texas for a barbeque dinner at Austin, Texas, Lodge No. 201.
2011 Legacy scholar Jacqueline Cosme, 2009 MVS scholar Maysie Ocera; and 2009 MVS scholar Taylor Morrison joined ENF staff and Elks members for a night with the Elks family. During dinner, our three Elks scholars formed relationships with Elks members and one another. They wasted no time bonding over music, community service and good food.
After dinner, Elks told the scholars how they got involved with the Elks and why they are proud to be members. Then the Elks got to learn more about the scholars and hear why they are thankful for their ENF scholarships. The scholars shared how their scholarships have helped them attain an outstanding college education. They also expressed how thankful they are to be part of the Elks family.
"I was very impressed with the Elks' philanthropy," says Jacqueline. "Hearing how passionate the Elks are makes me want to volunteer with them in the future."
Jacqueline, Maysie and Taylor enjoyed seeing the Austin Lodge in action and learning how the Elks help their community. They look forward to staying connected throughout the year, and coming together again in April for the Elks Scholar Month of Service.
After exchanging contact information, the Elks scholars headed back to campus feeling truly connected to their Elks family.
Meanwhile, in Tucson…
Nothing says family gathering like a taco dinner. Recently, 2011 Most Valuable Student scholars Matthew Klass and Jacob Long enjoyed tacos and good company at Tucson, Ariz., Lodge No. 385. The scholars met Elks members and learned about all the Elks do for their community.
"We had the privilege of meeting some very genuine and interesting people," said Matthew. "We felt right at home."
After the meet-up, the scholars arranged future volunteer opportunities with the Lodge and they are all looking forward to staying in touch.
You can get together with your Elks family, too! Email scholarship@elks.org for details about how you can participate in and Elks Scholar Meet-Up.