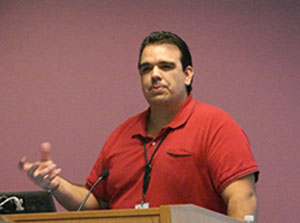 In late August of 1992, rough winds and rain ripped through Florida causing millions to evacuate and leaving thousands of damaged homes behind. Anthony Arguez vividly remembers this moment as a turning point in his life. Arguez was just 14 years old when the hurricane destroyed his neighborhood. At that moment, he decided to study meteorology—he's never looked back.
A Strong Foundation
With his dream of becoming a meteorologist set, Arguez knew he had to find a way to pay for a college education. Enter the Elks. Arguez received a Most Valuable Student Scholarship in 1996, sponsored by Homestead, Fla., Lodge No. 1754. He's come a long way since receiving that scholarship 16 years ago, but he fondly remembers the impact the Elks had on him at the time.
"I still remember meeting the nice gentleman in Florida who was my contact for the scholarship," says Arguez. "I am forever grateful to the ENF for helping me launch my college career."
Mr. Arguez Goes to Washington
And launch his career he did. Arguez graduated from Florida State University with a B.S. in meteorology, and then went on to get his Master's and Ph.D. in Meteorology. Shortly after, he moved to Asheville, N.C., where he landed a job as a climate scientist at the National Climatic Data Center. Most recently, he was named one of 96 recipients of the Presidential Early Career Awards for Scientists and Engineers. This honor resulted in a trip to the White House to meet the President!
With Help from the Elks
Arguez recognizes he might not have gotten this far without the help of the Elks. Born in Miami, Fla., as the youngest of five children, money was tight for his parents who had fled Cuba in the 1960s.
"The scholarship was a huge deal for me," says Arguez. "My parents were both disabled after doing back-breaking work for decades just to put food on the table. They had no money to help with my college education."
The Spirit of Philanthropy
The impact of his Most Valuable Student scholarship is why Arguez now gives back to the ENF—the organization that helped him realize his dreams.
"I am motivated to give to the ENF because of my profound appreciation," says Arguez. "The impact on my life cannot be overstated."
Now married with a young daughter of his own, Arguez will always treasure his connection to the Elks and the impression his Most Valuable Student scholarship made on him.
"This scholarship was funded by strangers who voluntarily donated their hard-earned money to help me go to college," says Arguez. "If that isn't benevolent and protective, I don't know what is! I like to think the spirit of philanthropy is alive and well in me as a result."
In 2012-13, the Elks National Foundation allocated $2.296 million to fund the Most Valuable Student Scholarships. For more information about the Most Valuable Student scholarship program, including eligibility and deadlines, visit www.elks.org/enf/scholars.