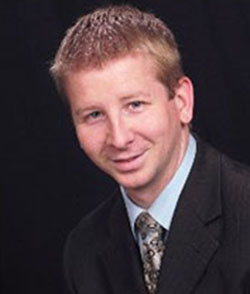 Q: How did you choose to attend University of Wisconsin-Oshkosh and how did you pick your major?
A: Part of my undergrad decision was that I wanted to stay close to my family and I had heard good things about the political science faculty at Oshkosh. I definitely wanted to study political science because I intended to become a lawyer, and at the time I was still thinking about going into politics.
Q: What have you been up to since graduation?
A: I finished at UW–Oshkosh in three years. I went to law school at UW-Madison and graduated in June 2007. Since then, I've become a criminal defense attorney and I have my own law firm in Baraboo, Wisconsin.
Q: What did your ENF scholarship mean to you?
A: It meant being able to go through undergrad without having to worry about my finances. It allowed me to concentrate completely on my schooling and it freed time to focus on learning everything I could and doing as well as possible in my classes. I am forever grateful to the Elks for the scholarship. It's had a huge impact on my life, and I can't imagine how difficult college would have been without it.
Q: What was your favorite memory from attending the Elks Convention?
A: That would definitely have to be giving the speech. My family and I really enjoyed going to Philadelphia, and we got to see a lot of the city. That was all very exciting, but giving the speech at convention was my favorite memory.
Q: What does being an Elks scholar mean to you?
A: It means that I have an obligation to conduct myself in an honorable fashion. I've always been interested in a profession that involved some form of public service. A lot of what I do is defend people who otherwise wouldn't have the means to hire an attorney. I feel they deserve as good as representation as anyone else. I think being an Elks scholar reinforced the fact that what I do should involve some form of service and I should help other people.
Q: What advice do you have for other Elks scholars?
A: My advice would be to always be mindful of how your conduct will reflect upon those around you and upon the Elks. We carry a responsibility to conduct ourselves in a certain way, so do things that you can be proud of and that others can be proud of.
Q: What is an interesting fact about you that most people would find surprising or unexpected?
A: I have a pretty serious creative streak. I try to maintain a creative project on the side. Right now, I'm trying to become a novelist. I'm working on a science fiction novel series.
---
Back to top