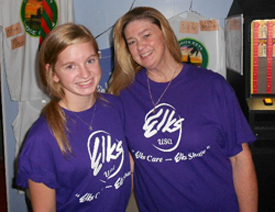 Almost every day for the past seven years, Christina Cockrell watched her mother head to the local Elks Lodge. She wondered what the Elks did and what drew her mother to join.
Eventually she took it upon herself to find out. Christina, a 2012 ENF Legacy Awards recipient sponsored by Florida Keys, Fla., Lodge No. 1872, became involved with the Florida Keys Lodge just like her mother.
Together they support soldiers and veterans through the Wounded Warrior Project, help with the Lodge newsletter, and donate their time to organizing the Florida Elks Youth Camp.
A Model of Elkdom
"I volunteer a lot with the Wounded Warrior Project through the Lodge," says Christina. "I enjoy meeting veterans and hearing their stories."
Christina has a great model of Elkdom in her mother, Brenda, who she hopes to emulate as she heads off to study at Valencia College in Orlando, Fla., this fall.
"I would love to become a member when I'm eligible and be like my mom," she says.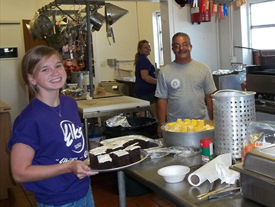 All in the Family
Christina's Elks family will support her in many ways throughout college, including with her $4,000 ENF Legacy Award.
"My Legacy Award means a lot to me, because I worked really hard," says Christina. "Paying for college is a little hard for my family, so this helps."
Quiet on the Set
While in college, Christina will major in film and meteorology. Having had a passion for film since seventh grade, she is excited to learn more.
"I took a few film classes in high school, and we went on field trips to sets and studios," says Christina. "I hope to be a producer or anything that involves being on set."
Whether she is forecasting the weather or producing behind the camera, we know Christina will achieve her dreams, and have the support of her Elks family along the way. And soon, she will be the one heading to the Elks Lodge every day.
In 2012-13, the Elks National Foundation allocated $1 million to fund 250 scholarships for the children and grandchildren of Elks. If you know any Elks children who are high school seniors, encourage them to visit www.elks.org/enf/scholars for information, including eligibility and deadlines.