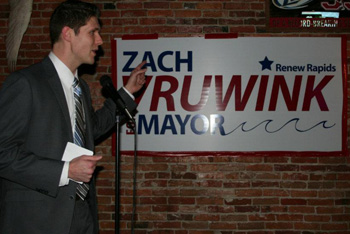 Graduate college—check. Own a business—check. Become mayor—check. Imagine checking these achievements off of your to do list at only 24-years-old.
That's exactly what Zach Vruwink did. Vruwink, a 2006 Legacy Awards recipient sponsored by Wisconsin Rapids, Wis., Lodge No. 693, is a force in the Wisconsin Rapids community, which is why he was named the 2012 Elks Scholar Alum of the Year.
Vruwink's ENF Legacy Award aided in his education at the University of Wisconsin–Stevens Point. But even before he graduated from college, Vruwink was helping Wisconsin Rapids. He started his own technology store in high school and now owns three locations in the area.
"I convinced my mom to sign the lease, as I was only 15 years old, and relied on my cousin to drive me to my store after school each day," says Vruwink. "I enjoy technology and the role it plays in people's lives. As a result, I provide technical support and related services to homes and businesses."
Vruwink for Mayor
His company took off, but Vruwink didn't stop there. He decided to run for mayor to make a real difference in his Wisconsin Rapids community.
"I have always believed Wisconsin Rapids could achieve much more," says Vruwink. "Growing up, I often dreamed of a more prosperous community."
With his entrepreneurial background and his fresh perspective, Vruwink won the election and became mayor of Wisconsin Rapids at the age of 24.
Following the Elks Example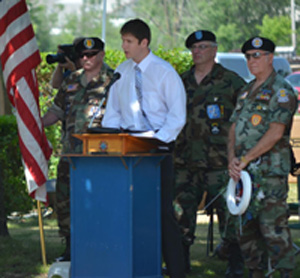 Graduating college, running for mayor, and owning his own business leave little free time for Vruwink, but he doesn't let that get in the way of service. Vruwink remains committed to helping his community, a value the Elks taught him early in life. He recently joined Wisconsin Rapids, Wis., Lodge No. 693, to give back even more.
"The Elks represent community service, involvement, and making a difference at the local level," says Vruwink.
Vruwink follows the Elks model by giving back to his community. Through the Junior Achievement program, Vruwink goes into schools to teach children about business and entrepreneurship.
"It was my experience with Junior Achievement as a young person that opened my eyes," says Vruwink. "The experience of understanding business at its basic level was life changing."
As the 2012 Elks Alum of the Year, Vruwink will receive a $500 grant to be donated to Junior Achievement— the nonprofit of his choosing. He will receive his award at the Elks National Convention in Austin, Texas, and will serve a one year term on the Elks Scholar Advisory Board.
"Being the change I wish to see has been an exciting journey, and I look forward to what the future holds," says Vruwink. "It is a tremendous honor to be the recipient of the 2012 Elks Alum of the Year award."
Become the Elks Alum of the Year—Check.
For more information about Elks scholars, including the Elks Scholar Advisory Board and Elks scholar relations, please visit www.elks.org/enf/elksscholars.