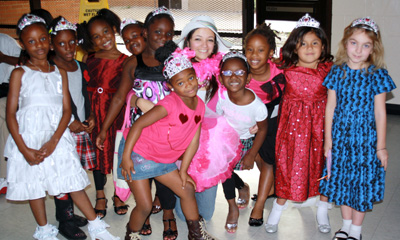 Do you remember when you learned to read the word "extraordinary"? You might not, but a group of second grade girls in Jacksonville, Fla., certainly do.
Rory Nicolaides, a Gunther & Lee Weigel Medical School scholar at the University of Florida and a 2006 Most Valuable Student scholar sponsored by Orlando, Fla., Lodge No. 1079, received a 2011 ENF Cornerstone Grant to aid in her service with the GIRLStart National Literacy Project.
Rory regularly volunteers with the first grade class at the Jacksonville, Fla., site of GIRLStart, but they did not have enough funds for a second grade class. With the help of her ENF Cornerstone Grant, Rory started a second grade class and purchased supplies for a year's worth of activities for the girls.
Throughout the year, the class focused on activities to help the girls feel strong, smart and bold. Her Cornerstone Grant allowed Rory to purchase t-shirts for the program participants, literacy materials and garden supplies.
In addition, the GIRLStart site in Jacksonville hosted a party to enhance the literacy program.
"We believe that learning should be a fun process, filled with adventure and surprises," says Rory. "One of the ways we accomplish this is by holding parties that bring books to life."
One party centered on the Fancy Nancy book series. The girls got to dress in tutus, tiaras and ruby slippers, eat fancy cupcakes, and use fancy words, just like the character in the book does.
"The book series has been an excellent teaching tool for growing vocabulary and teaching life lessons," says Rory.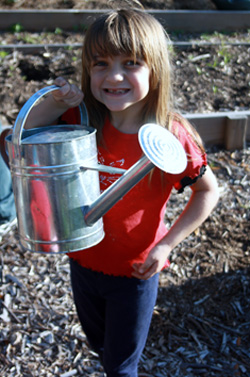 When they weren't being fancy, the girls were getting their hands dirty planting a garden at the site. Three girls were assigned to care for each garden plot. The girls learned to take responsibility for the garden and got to enjoy the fresh vegetables!
"Our organic gardening initiative allows for hands on learning about healthy eating habits, leadership skills and responsibility," says Rory.
Thanks to her ENF Cornerstone Grant, Rory was able to give these second-graders healthy, fun activities that increased the girls' reading skills and helped teach them to be confident. Way to give these girls an extraordinary start!
For more information about Elks scholars and Elks scholar opportunities like the ENF Cornerstone Grants, please visit www.elks.org/enf/elksscholars.