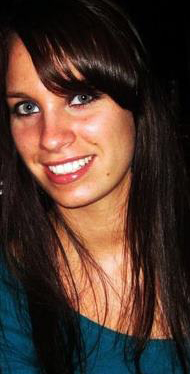 Jessica Biekert sits at a table cutting, pasting and coloring with 10-year-olds. But these aren't just any art projects—these children are learning to deal with the life-changing event of losing a parent, something that Jessica can identify with all too well.
When her father, a member of Westerly, R.I., Lodge No. 678, passed away in 2009, Jessica was left with the pain and hardship of losing a parent, but she knew she wanted to use her experience to help others.
"My father's passing was somewhat of a reality check for me; life is too short and I want to make it worthwhile," says Jessica. "I want to give back and continue to push myself to reach my goals."
A Shared Experience
Jessica, a senior at the University of Connecticut, decided to donate her time to the Cove Center for Grieving Children in Stonington, Conn. Jessica volunteers as a facilitator for children who have lost a parent or loved one. She uses crafts and other projects to help the children deal with their grief and relate to their peers.
"It is a very tough program for me to volunteer with, considering I recently lost my father," says Jessica. "While it is sometimes impossible to put my emotions aside, I relate so well to the pain the children are feeling and try my best to make them feel comfortable and to build a trusting relationship with every one of them."
Shortly after she began volunteering at the Cove Center, Jessica applied for and received a 2011 ENF Cornerstone Grant to help purchase supplies and project materials. ENF Cornerstone Grants are $500 grants available to Elks scholars and alumni interested in initiating or expanding a community service project.
Elks Support
Her ENF Cornerstone Grant isn't the first time Jessica benefited from the Elks. She also received an Emergency Educational Grant to help her obtain a Nursing degree at the University of Connecticut—another way she hopes to use her experiences to help others.
"I am currently getting my Bachelors/Masters in Nursing in an accelerated program," says Jessica. "After graduation, I plan to use the experience I gained from the Cove Center to work in a hospital as a pediatric nurse, with hopes of eventually opening my own practice."
With the support of the Elks National Foundation in both her academics and her service, Jessica is motivated to use talents and her personal experiences to continue helping others.
"Both my Emergency Educational Grant and Cornerstone Grant gave me the ambition to help others," says Jessica. "The Elks have had a tremendous impact on my life in the past three years and I am forever grateful. My days were made a little easier because of this scholarship."
With her motivation and kindness for others, we know Jessica will continue making others' days a little easier, too.
In 2011-12, the Elks National Foundation allocated $350,000 to fund the Emergency Educational Grant program for children of deceased or totally disabled Elks Visit www.elks.org/enf/scholars for information, including eligibility and deadlines. For more information about Elks scholar opportunities like the Cornerstone Grants, please visit www.elks.org/enf/elksscholars.