After taking on the title of Elks scholar, Jeanie Nguyen soon learned that in addition to financial help, she also gained an Elks family. Jeanie received a 2010 Most Valuable Student scholarship sponsored by Poway, Calif., Lodge No. 2543, and headed east to study neurobiology and chemistry at Harvard University where she helped form an Elks scholar community. Read about her Elks scholar experience so far.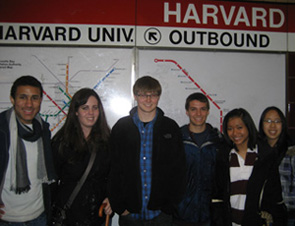 Dear Elks,
Within my first two days of college, I met and connected with two Elks scholars—both of whom I chose to live with during my undergraduate years! As a wide-eyed freshman at Harvard, I hoped to continue to meet and connect with more scholars, so I jumped at the opportunity to lead a campus meet-up during my first semester. I met Prateek Kumar, a Harvard alum and member of the Elks Scholar Advisory Board, and found his stories about undergraduate life and the job market both insightful and thrilling. Together, we planned a meet-up for Harvard Elks scholars, and the intimate environment fostered great conversations.
After the meet-up, I was determined to rally even more scholars for the April 2011 Elks Scholar Month of Service. My persistence paid off. Despite the chilly rain, seven Elks scholars came together to represent the Elks in service to Boston. It was a splendid experience learning that so many of the familiar faces in my classrooms were also Elks scholars. This is the common thread that not only links our lofty academic goals, but also moves us to be more involved with the Elks and in our community. It's really inspiring to both study and work alongside these highly motivated peers and to see them generously dedicate their time to improving their communities.
At the start of my sophomore year, I signed up to host another campus meet-up which has been my favorite Elks experience to date! There was a great turnout from Elks scholars throughout Boston, and much enthusiasm. Harvard and Massachusetts Institute of Technology Elks scholars united, bonded over personal stories of their Elks scholar journey, and shared memorable college experiences. I can't wait for the 2012 Elks Scholar Month of Service event in April!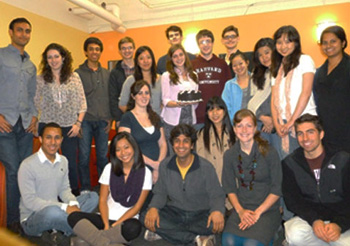 One of the Elks National Foundation's goals is to foster a close knit community of Elks and Elks scholars. Although I've only been an Elks scholar for a little more than a year, I've already experienced the inspiring motivation that stems from Elks scholars joining together, and I look forward to what's to come!
Warm Holiday Cheers,
Jeanie Nguyen
2010 MVS Recipient
Sponsored by Poway, Calif., Lodge No. 2543
In 2011-12, the Elks National Foundation allocated $2.296 million to fund the Most Valuable Student Scholarships. For more information about the Most Valuable Student scholarship program, including eligibility and deadlines, please visit www.elks.org/enf/scholars.