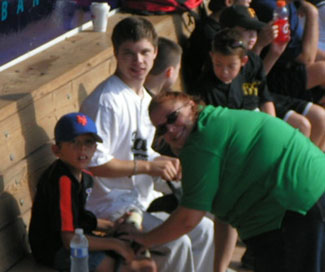 With a mother, father and two grandfathers who are all Elks, it was no surprise Jacqueline Patterson's father handed her a membership application when she turned 21.
"My dad was my sponsor, but I joined because I wanted to help my community," says Patterson.
Now a member of the Asbury Park-Wall, N.J., Lodge No. 128, Patterson found a great way to give back to her community—a community that gave so much to her. She received an Elks National Foundation Legacy Award in 2002, sponsored by Anchorage, Alaska, Lodge No. 1351. Her two sisters also received Legacy Awards.
With the help of her Legacy Award, Patterson attended Kent State University where she majored in American Sign Language. When Patterson turned 21 and was able to join the Elks, she immediately remembered the scholarship that helped her and her family so much.
"When you receive a Legacy scholarship, you know you have the support of the Elks," she says. "Now it's my turn to help the next generation."
And that's exactly what she's doing. Patterson and her family take joy in helping strengthen their community—from raising money and helping special needs children, to building ramps and mowing lawns.
"We don't mind getting our hands dirty," explains Patterson. "If it involves building a ramp or mowing a lawn, we'll do it. People just have to ask the Elks and we're more than willing to help."
Patterson is proud of her family's commitment to the Elks and to building stronger communities. She intends to carry on that family legacy for years to come.
"In the seven years that I've worked closely with my parents at the Elks, we've enjoyed helping the community," she says. "The Elks do run deep."
After seven years as an Elk, Patterson has some advice for the newest Legacy Awards recipients—get involved with a local Elks Lodge.
"When you have just received the scholarship, it's hard to get into the mindset that someone worked very hard to help the community and someone worked hard to raise the money for this scholarship," says Patterson. "Elks scholars should visit their local Lodges to see where the scholarship comes from. Now it's their turn to help."
In 2011-12, the Elks National Foundation allocated $1 million to fund scholarships for the children and grandchildren of Elks. If you know an Elk child who is a high school senior, encourage them to visit www.elks.org/enf/scholars for information, including eligibility and deadlines.