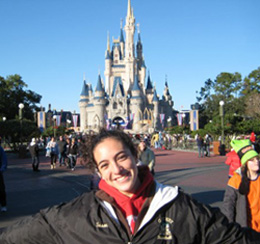 Two of Susan Gogniat's favorite activities are running and community service. So when Susan, a 2009 MVS scholar sponsored by Braddock, Penn., Lodge No. 883, arrived at the University of Dayton she found the perfect match.
Distance 4 Dreams is a campus organization where members train for the Disney marathon or half-marathon. They hold fundraisers throughout the year to send a child and their family from A Special Wish Foundation to Disney World. The group then joins the family at Walt Disney World for the marathon weekend.
"There is something amazing about the look on the child's face at Disney," says Susan. "The trip gives them and their family an opportunity to forget about the stress of their life back home and enjoy their vacation."
Susan is currently studying English, economics and public relations. After a long day of classes, she finds the best way to unwind is with a run. For the first two years, Susan trained for the half marathon. This year, she registered to run the marathon—the longest distance she has ever run.
"Increasing the distance has been difficult, especially during the winter months," says Susan, "but keeping in mind that I am running to make a child's dream come true helps me keep a positive attitude."
The members of Distance 4 Dreams raised more than $8,000 last year, which all went toward fulfilling wishes through A Special Wish Foundation. They sponsored one child and his three family members to go to Disney. After that, they still had enough money left over to fulfill another child's wish of going on a shopping spree.
"Distance 4 Dreams has given me a new appreciation for life," says Susan, "I have accomplished things I never thought I could do and have realized that young people like me can make a difference in another person's life."
While balancing her studies, internships, and, of course, running, Susan has learned a lot about her abilities and reaching her goals. We know that whatever the future holds, Susan will be running toward it with confidence.
In 2011-12, the Elks National Foundation allocated $2.296 million to fund the Most Valuable Student Scholarships. For more information about the Most Valuable Student scholarship program, including eligibility and deadlines, please visit www.elks.org/enf/scholars.