Read how 2007 top MVS winner Cort Van Ostran spent his final weeks as a student at Harvard University. His graduation week was a time of both sadness and celebration, but the Elks were there to help.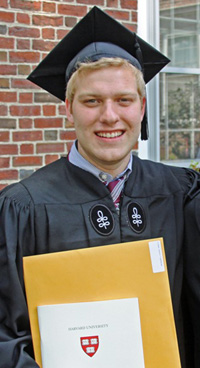 The week of my graduation from Harvard University was quite a roller coaster. My graduation was set for Thursday, but on the preceding Sunday, my hometown—Joplin, Missouri, where I was born and raised and where nearly all of my family still resides—was hit by one of the worst tornadoes in recent memory. More than one hundred people were killed, and among the many homes and businesses destroyed was Joplin's Elks Lodge—a Lodge where I had spoken, as the 2007 top male recipient of the Elks Most Valuable Student scholarship, just a year or so earlier.
Thankfully, and by the grace of God, my family was spared from the tornado's wrath, and amazingly, my family was able to come to Boston for my graduation, a great time of celebration and reflection on the last four years. My time at college was filled with experiences that the Elks, through their generous financial support covering Harvard's steep tuition, empowered me to experience. From internships to global travel, my rich college experience made me a better person, and strengthened my sense of both national and global citizenship; in short, it gave this Midwesterner with working-class roots the opportunity to do and see more than I ever thought possible.
Earning my degree from Harvard was among the greatest accomplishments of my life so far. But my graduation's juxtaposition with such a devastating event as the tornado that destroyed my hometown was a poignant reminder that life can change in an instant.
Both events, however, serve as moving examples of why the Elks' work is so important. The Elks made my dream of attending Harvard a reality; the organization opened doors to me that I never thought possible. At the same time, the Elks' support is so vital for needs such as those of my hometown following the devastating tornado; despite its own terrible loss, the organization immediately began the work of rebuilding not just homes and businesses, but lives.
It is this dual purpose of both rebuilding and expanding, healing and growing, managing setbacks and creating new opportunities, that makes the Elks so special. As one Joplin Elk was quoted in the local newspaper as saying shortly after the tornado, "You can kick us around, but we'll still be here." I am so thankful for both roles that Elks play—and I sleep a little better at night knowing they will continue to do so for many, many years to come.
Cort Van Ostran
2007 Top MVS Winner
Sponsored by Joplin, Mo., Lodge No. 501