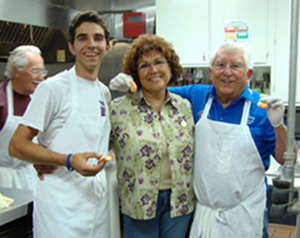 Sean Pringle is a walking, talking example of an Elks scholar who shares his story, gives his time, and joins in service with his local Elks Lodge. The sophomore at California Polytechnic University joined the Elks Scholar Advisory Board as the freshman representative in 2010 and hit the ground running! Sean formed and now leads an Elks scholar group at Cal Poly, and he regularly volunteers at his hometown Elks Lodge, Oceano/Five Cities Lodge No. 2504.
"The Elks Lodge plays an integral part in my community," Sean says. "I wanted to reach out and show my thanks by volunteering at the Lodge."
As soon as he got to campus, Sean contacted the Oceano/Five Cities Lodge to ask how he could help. The Lodge was eager to have Sean as a volunteer, and their relationship blossomed.
"I've become very good friends with Lodge members, and truly feel part of the Elks family that brings charity and benevolence into my hometown," Sean says.
"Sean is a familiar face at our Lodge," says Exalted Ruler Margaret Walker, who recently caught up with Sean at the Elks National Convention in Phoenix. Sean was there for the annual Elks Scholar Advisory Board meeting.
"He is always available to help out when needed," continues Walker, "regardless of whether it's riding on an Elks float in a parade, promoting the Elks at a community activity, or serving dinner to members. He walks the talk of the Elks."
In March, Sean and Elks scholars at Cal Poly volunteered at the Lodge's annual crab feed. Before the event, the Cal Poly Elks scholars even made matching t-shirts so the community would identify them as Elks scholars.
Last May, Sean teamed with three other Elks scholars from Cal Poly to volunteer at the Oceano/Five Cities Lodge during its annual airport celebration. The Elks scholars chatted with members while serving sandwiches to participants, including many veterans.
Most recently, Sean and his brother volunteered at the Lodge's Shrimp Reel that served more than 150 community members. In October, Sean is scheduled to speak at the Lodge's spaghetti dinner. There, he will share his Elks scholar experience with Lodge members and their families.
Through his service with the Elks, Sean has gotten to know the organization and his community even better. He looks forward to a long, great partnership between the Cal Poly Elks scholars and the Lodge.
To enhance scholar relations and communication, the Elks Scholar Advisory Board was founded in 2009. The Elks Scholar Advisory Board helps shape the Elks scholar experience by encouraging Elks scholars to share, give and join. For more information about the Elks Scholar Advisory Board and Elks scholar relations, please visit www.elks.org/enf/elksscholars.