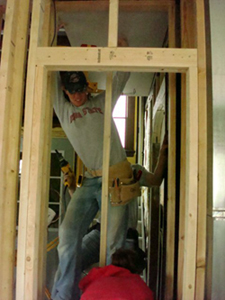 Legos were an important part of Josh Singsank's childhood. His love of building led this 2008 MVS recipient, sponsored by Galena, Ill., Lodge No. 882, to pursue a degree in construction engineering at Iowa State University.
In 2010, Josh joined the Iowa State Associated General Contractors Student Chapter and is now treasurer. With the motto that a successful contractor must give back to the community, this group influenced Josh to explore his career field through community service.
Together, the members volunteered more than 10,000 hours last year building handicap ramps, playgrounds, and doing home improvements for low income residents.
"The most rewarding part has been seeing the people we have helped and how thankful they are," says Josh.
During his spring break, Josh and 40 other construction engineering students volunteered to do home and community repairs for victims of the 2008 flooding in Iowa. They rebuilt playgrounds and repaired many water damaged homes.
To Josh, being an Elks scholar means giving back to his community. The spring break experience was very moving and has influenced his future career plans. Josh now knows that after graduation he wants to be a project manager. But to him, the most important part is that he work for a company that values its community.
In 2011-12, the Elks National Foundation allocated $2.296 million to fund the Most Valuable Student Scholarships. For more information about the Most Valuable Student scholarship program, including eligibility and deadlines, please visitwww.elks.org/enf/scholars.