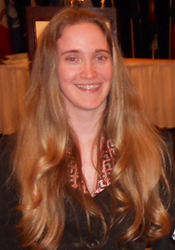 2006 Legacy scholar Erika Barger is a second-year law student at Florida State University, a member of the Elks Scholar Advisory Board, and a fourth-generation Elks member of her hometown Lodge, Ormond Beach, Fla., Lodge No. 2193. While she's always busy, Erika finds time to promote ENF scholarships to high school seniors in her area as the Lodge Scholarship Chair.
As a past applicant and recipient of an Elks National Foundation scholarship, I feel that as a young member of my Elks Lodge, I possess a new and different perspective that will help to promote the Elks National Foundation Most Valuable Student and Legacy Awards Scholarships. After serving on the Lodge Scholarship Committee last year, I am honored to have been appointed as the Lodge Scholarship Chair this year.
My Elks scholarship allowed to me to avoid a rigorous work study program throughout college and permitted me much needed time to participate in a wide variety of extracurricular activities. By serving as my local Lodge Scholarship Chair, I can give back to the Elks community and help to make a difference in the lives of students who, like me, needed a financial boost to help fund their college education.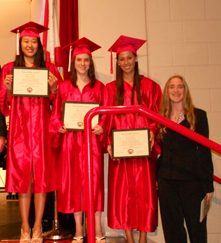 I am looking forward to promoting the MVS and Legacy Awards this year in my community. I plan to feature the contests in our Lodge's newsletter and to supply our local high schools with MVS posters. I also plan to speak with school principals, guidance counselors and scholarship coordinators about the Elks scholarship programs and to seek their assistance in encouraging students to apply. I also plan to speak with high school students about the scholarships and to share my personal experience regarding the application process.
It is my sincere hope that, through my small effort, my community will become more aware of some of the great works the Elks do. I also hope that the students who participate in the scholarship application process will continue to give back to their communities and one day may join the Elks organization.
Erika Barger
2006 Legacy Scholar, sponsored by Ormond Beach, Fla., Lodge No. 2193
At-Large member, Elks Scholar Advisory Board
We know Erika and her Lodge will do a great job promoting ENF scholarships and we look forward to announcing the class of 2012 Elks scholars in April 2012!
The Elks National Foundation provides more than $3.6 million in college scholarships each year. For more information about our scholarship programs, including eligibility and deadlines, please visitwww.elks.org/enf/scholars.