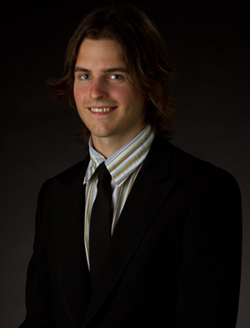 As a young entrepreneur, Jimmy Tomczak is eager to help the world with his local and global mindset. At 23 years old, Tomczak has already started his own company. But it isn't all about business for Tomczak, he is committed to giving back to his community and helping to rebuild his beloved city—Detroit. That is why the Elks National Foundation named Tomczak the 2011 Elks Alum of the Year.
Manufacturing Good
Tomczak received a 2006 Most Valuable Student scholarship sponsored by Redford (Detroit), Mich., Lodge No. 2097, which he put to good use at the University of Michigan. In 2010, he received his bachelor's degree in neuroscience, but after completing an entrepreneurship program in college, Tomczak's path took a turn.
In 2010, he started TOMBOLO, which focuses on creating products from recycled materials and advocates for conscious consumption and creative recycling. TOMBOLO's mission is "manufacture good."
"TOMBOLO designs, creates, and shares innovations for a better world," says Tomczak. "I strive to carry forward the success of my existing company while finding new ways to give back. I want to use my creativity to make a difference."
TOMBOLO's first successful product launch was Paperfeet sandals, which Tomczak had been developing since 2008.
Paperfeet came about when Tomczak, who loves being barefoot, needed minimal protection on his feet. An unlikely source became the answer to his problem—billboards. Using recycled billboard materials, Tomczak created paper-thin sandals for surfers, bikers, and beach-goers who wanted that barely-there feel on their feet.
He's come a long way since making his first pair of shoes. The sandals have been featured in FOX Detroit, AOL News, The Wall Street Journal, and NPR. Tomczak was even named as one of Crain's Detroit Business 20 in their 20s. Between June and November 2010, Tomczak sold over 400 test pairs.
While the sandals are designed to give the outdoors-lover an alternative to shoes, they also help make the world a better place. Tomczak's company is committed to using local labor and sustainable resources.
"We manufacture consumer products like Paperfeet," says Tomczak. "But TOMBOLO also manufactures good by designing innovations that make the world a better place."
Made in Michigan
Tomczak's desire to improve the world starts at home. He is from Grass Lake, Mich., about an hour outside of Detroit. As Michigan continues to face hard times, Tomczak has committed himself to helping rebuild his state.
Born, raised and educated in Michigan, of course he chose to build his business there. Despite the challenges of being a young entrepreneur in Detroit, Tomczak is determined to bring positive press to the city he loves so much.
Living to Give
As the 2011 Elks Alum of the Year, Tomczak will receive his award at the Elks National Convention in Phoenix, Ariz. This prestigious award is given each year to a graduated Elks scholar who has demonstrated an ongoing commitment to service. Tomczak will serve on the Elks Scholar Advisory Board, a board composed of eight Elks scholars and alumni dedicated to getting Elks scholars involved with each other and the Elks.
In addition, the Elks National Foundation will present him with a $500 grant to be donated to the nonprofit of his choosing—Live to Give Foundation. The Live to Give Foundation is dedicated to rebuilding Detroit one project at a time, and Tomczak is eager to support its work.
"I'm honored to be able to give back such a large amount at such a young age, especially to a group making a huge difference in Detroit," says Tomczak.
While Tomczak's business has taken off, he has not forgotten the Elks who were there for him throughout college.
"The Elks are like an extended family," says Tomczak. "We look out for each other and for those in need. Thanks to my Elks scholarship, in college I was able to focus on innovation and impact. My Elks scholarship was a springboard to my success in my entrepreneurial adventures."
With Paperfeet sandals on his feet, we know Tomczak will go far!
For more information about Elks scholars, please visit www.elks.org/enf/elksscholars.