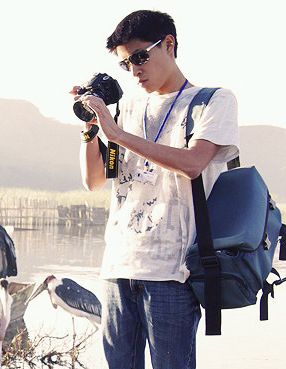 As a little boy, Dean Shu would flip through the pages of National Geographic and think about a world beyond his front door. Now, as he heads off to Harvard University in the fall, Dean no longer needs to imagine the world. He has seen it firsthand.
His skills as a photographer and his desire to help others have taken him to exotic places, and he plans to travel even more to expand his horizons and serve those in need.
As the 2011 top male Most Valuable Student winner sponsored by the Santa Ana, Calif., Lodge No. 794, Dean will pursue these passions at Harvard.
A Global Lens
Ever since he picked up that first National Geographic, Dean has been enamored with photography. His passion for the camera has only increased with time. Last November, Dean entered a photo into a UNICEF/World Photography Organization contest and won! The prize was a weeklong trip to Ethiopia, where he studied with a National Geographic photographer.
"My experience in Ethiopia opened my eyes, and I want more experiences like that," says Dean.
He's already achieving that goal. He recently volunteered in Mexico and looks forward to more trips in the future.
The Family that Studies Together
When he's not seeing the world, Dean enjoys spending time with his parents and sister in Santa Ana. His biggest inspiration is his sister Chyi-Shin, who had to take a year off during high school to recover from brain surgery, but didn't let that slow her down.
"She came back to high school, hit the ground running, graduated first in her class, and was voted homecoming queen," says Dean. "She's been a great inspiration for me."
Chyi-Shin inspired him to go to Harvard, where she is currently a sophomore. In addition, she inspired Dean's summer plans. A few years ago she travelled to Taiwan for a summer to teach English, and recommended Dean apply for the same program. He is headed to Taiwan this summer and is looking forward to exploring a new country.
Environmentally Conscious
Dean's sister isn't the only family member who inspires his passions. His parents have instilled in him an awareness of the environment that has influenced his major course of study.
"My family is environmentally conscious. Instead of drying our clothes we hang them outside, we never use air conditioning, and we've all been vegetarians since I was 3," says Dean. "I want to study economics to see if I can help correct some of the things we've done to the earth in the past few years."
Studying economics at Harvard wasn't always a sure thing, due to financial factors. But when Dean received the call about winning the top Most Valuable Student scholarship, he was ecstatic! Dean admits that he didn't think he would make it all the way to the top when he applied for the Most Valuable Student scholarship.
"I was looking online at the previous MVS winners, and they were all such amazing people that I thought I didn't have a chance," says Dean. "I was completely surprised and excited!"
Now Dean joins the ranks of outstanding Elks scholars who have come before him, and we can't wait to see how he changes the world!
In 2011-12, the Elks National Foundation allocated $2.296 million to fund the Most Valuable Student Scholarships. For more information about the Most Valuable Student scholarship program, including eligibility and deadlines, please visit www.elks.org/enf/scholars.