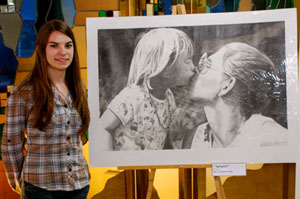 Family has been Christina Lulich's No. 1 priority all her life. Sponsored by Gatlinburg, Tenn., Lodge No. 1925, Christina is involved with 4-H and countless volunteer projects, but her main focus has always been her family.
Because of these family ties, Christina, the top female Most Valuable Student winner, will travel just 40 miles to the University of Tennessee at Knoxville in the fall. Having recently lost her mother to cancer, Christina values her family more than ever and is looking forward to being close to home.
"Ever since my mom died I became a lot closer to my family, so being close to home is important," says Christina.
An Eager Student
Despite the hardships she has faced, Christina is ready to go out and seize every opportunity available to her in college.
Even now, Christina spends her free time studying anything and everything. While other high school seniors might head for the TV when they finish their homework, Christina doesn't. When her homework is finished, she continues to educate herself by learning new languages and researching interesting topics.
Christina's diverse interests are currently focused on architecture, her intended major.
"I've always been interested in art and I like math—it's an interesting combination," says Christina. "I would like to eventually own an architecture firm, but I'm open to anything."
Her father played a role in her decision to study architecture. He owns a construction business, so Christina grew up watching him draw blueprints.
Family Ties
While she's studying at the University of Tennessee, Christina plans to visit home often. Her two brothers and her father are nearby, as well as her local 4-H group, which she plans to stay involved with by being a 4-H camp counselor.
"Everything about who I am today is influenced by 4-H," says Christina. "I would not be who I am without it."
While busy with 4-H and volunteering, Christina always finds time to spend with family, especially with her older brother T.J., whom she says is her biggest inspiration.
"He instilled in me really good morals," says Christina. "He's an excellent example, and he's made me want to give back to others."
A Life for Others
And giving back to others is just what Christina plans to do while at the University of Tennessee, thanks to her Most Valuable Student scholarship. By receiving the scholarship, she hopes to focus more on volunteering and less on working.
"I'll certainly be able to focus on school without having to worry about funding," says Christina. "It will allow me time for community service, so I can help others."
No matter what comes her way, or what interests she decides to pursue, we know Christina will succeed because of the wonderful family she has supporting her and her passion for learning. Even during the hardest of times, Christina has persevered with grace and confidence.
"Dealing with my mom's death, I felt like I needed to be strong," says Christina. "Being strong helped me be on top of everything and not crash."
Christina's motto is from Albert Einstein—"only a life lived for others is worth living." Christina demonstrates this every day, and we know Christina will continue to live her life for others.
In 2011-12, the Elks National Foundation allocated $2.296 million to fund the Most Valuable Student Scholarships. For more information about the Most Valuable Student scholarship program, including eligibility and deadlines, please visit www.elks.org/enf/scholars.