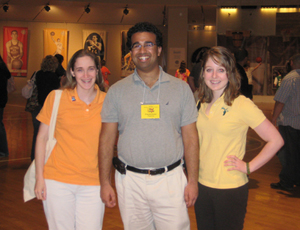 On April 30, three members of the Elks Scholar Advisory Board attended the National Hoop Shoot Finals in Springfield, Mass. Erika Barger, Prateek Kumar and Clara Ritger got a chance to see the kids in action, meet dedicated Elks volunteers, and talk to families about the Elks scholar experience. Here's what they had to say about the contest:
"The Hoop Shoot is a fabulous way for the Scholar Advisory Board to interact with members of the Elks and give back both to an organization that has helped us so much and to a group of talented kids from across the country. It was a great experience to watch the kids play at such a high level. Seeing the competitors perform so well under such tangible pressure was, in many ways, awe-inspiring.
Even for all the contestants that didn't win, each of them gained valuable skills besides shooting a basketball, including hard work, determination, and focus. It was a privilege to volunteer at Hoop Shoot, which is clearly having a positive impact on the youth who participate."
Prateek Kumar
2007 Most Valuable Student scholar
Harvard University
"As a Scholar Advisory Board member, I had the great fortune to volunteer at this year's Hoop Shoot. The young participants told me that they spent months training for this event. Some had been working year after year with the hopes of making it to the national finals. I was humbled by their dedication and hard work.
If you get the chance to volunteer at a Hoop Shoot, make sure you take some time to talk to the participants. They have lessons to teach us."
Clara Ritger
2009 Most Valuable Student scholar
Notre Dame University
"I was honored to attend the Elks National Hoop Shoot Finals in Springfield, Mass. this year. I took great pleasure in meeting the Elks members who make the Hoop Shoot competition a reality.
As an Elk, I am truly proud of the great accomplishments of all of the young participants who worked and practiced tirelessly for the competition. I enjoyed meeting with participants and their families and sharing with them the charitable works that the Elks do all across the country.
Although not every participant could win a top award, they were winners by the mere fact that they made it to the national finals and were representing the nation's finest young free-throw shooters! As a former Hoop Shoot participant, myself, who participated at the local level many years ago, I can attest to the hours of practice that participants dedicate to the competition.
I am privileged to have been a part of this event and I hope that these young people will be inspired to continue making and achieving personal goals and striving to be the best they can be throughout their lives."
Erika Barger
2006 Legacy scholar
Stetson University College of Law
We're glad Clara, Erika and Prateek had the opportunity to show these youngsters and their families that the Elks will be there, too when it is time to go to college.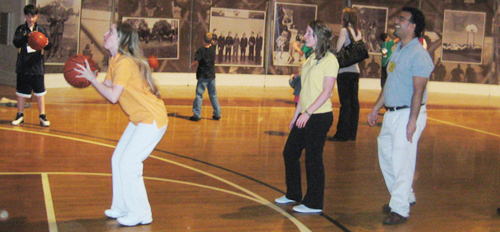 In 2011-12, the Elks National Foundation allocated $809,275 to fund the Elks National Hoop Shoot Free Throw Program. For more information on the Hoop Shoot, visit www.elks.org/hoopshoot. For more information about our scholarship programs, please visit www.elks.org/enf/scholars.