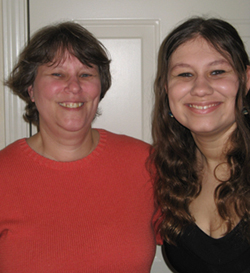 Recently, the Elks National Foundation scholarship office received a gracious thank you note from Sharon Surna, the mother of 2011 Most Valuable Student scholar Sarah Surna, sponsored by Kalamazoo, Mich., Lodge No. 50. Among the many wonderful thank you notes we receive this time of year, this one stood out because of the special link this mother and daughter have to the Most Valuable Student scholarship.
Dear Elks National Foundation:
I imagine it is not very often that you hear a thank you from a parent for your fantastic generosity, but I have several reasons to express my gratitude.
Back in 1976, I received an MVS Scholarship of $600 and I am sure I never took the time to express how valuable and helpful that scholarship was to me. I guess this is as good a time as any to say thank you so much!
Now my daughter is a recipient of your generosity and I can't begin to sing your praises about your courtesy and support throughout the application process.
Your organization provides such fine role models. I hope there is a time when we will be able to give back to your organization to show our gratitude. Your generous scholarship will truly help ease the financial burden of providing our daughter with a college education.
Sincerely,
Sharon Sandler Surna
We are glad the Most Valuable Student scholarship helped both Sharon and Sarah over the years. We wish Sarah the best of luck as she heads to college with the support of her family and the Elks National Foundation behind her.
In 2011-12, the Elks National Foundation allocated $2.296 million to fund the Most Valuable Student Scholarships. For more information about the Most Valuable Student scholarship program, including eligibility and deadlines, please visit www.elks.org/enf/scholars.