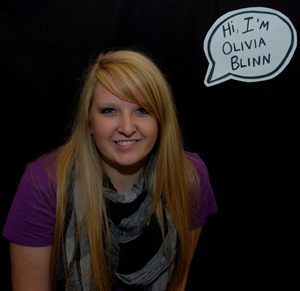 Olivia Blinn, a 2010 MVS scholar sponsored by Duluth, Minn., Lodge No. 133, knew she had a unique story to share about how she, a girl from the Midwest, ended up at a college in California. What she didn't realize, was what would happen when she shared this story.
Since age eight, Olivia has been an avid photographer. So when her school announced a contest for students to submit videos about why they chose to attend Biola University, she immediately entered.
Using her photography skills, Olivia created a three minute video using nearly 500 photos.
"I had always wanted to make a stop-motion video," she says. "This contest seemed like a fun opportunity to stretch myself and try my hand at the concept."
A stop-motion video is a video created with a series of photographs. Transforming her dorm into a photography studio, it took Olivia two days to complete the video.
Several weeks later, she found out that her video had won! As the winner, she attended an alumni and donor dinner where her video premiered. At the dinner, Olivia was even interviewed by the university president.
"Not only was it an honor to get invited to the dinner, but it was humbling to get to share my story with nearly 500 alumni," said Olivia.
The whole experience encouraged Olivia. Producing a video was something new, but she adapted the skills she already had. Her video has been used by Biola to promote the university to prospective students on Facebook and Twitter.
Olivia continues to develop her photography skills as a visual journalism and math double major. Her dream is to become a photojournalist.
"Everyone has a story to tell," says Olivia, "but they don't always have a voice to tell it. I would love to be that voice."
Click here to watch Olivia's video.
In 2011-12, the Elks National Foundation allocated $2.296 million to fund the Most Valuable Student Scholarships. For more information about the Most Valuable Student scholarship program, including eligibility and deadlines, please visit www.elks.org/enf/scholars.