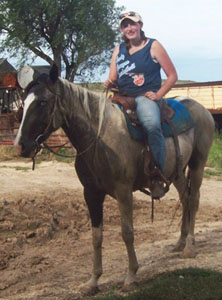 When Bessie Harp, a senior journalism major at Fort Hayes State University, received her 2007 Most Valuable Student scholarship, it was more than just money for school. Knowing she had the support of Russell, Kan., Lodge No. 1715, and all of the Elks, kept her motivated.
"Tough classes pale in comparison when I remember the people who are behind my scholarship," says Bessie.
In addition to focusing on school, Bessie is active in her community. In 2008, Bessie joined the Luray Fire Department. It wasn't an easy decision since she was still in school, but she was raised to help others. She remembered how the department had helped her family with an emergency in the past. So when her friends invited her to sign up, she decided to join the team.
Last fall, the fire department helped her family once again when a building on her parents' farm caught on fire. Bessie reassured her family while working with the rest of her team to contain the fire and save the shop just a few feet away. The most rewarding part? "The look of awe on my little brother's face when he first saw me geared up on one of our rigs," says Bessie.
Between school, and the fire department, Bessie's time is pretty well spent. Yet, she still finds time for her other passion, horse training. Her work with horses has taught her a lot about working with others.
"The most important thing to learn from horses is they're bigger than you so losing your temper won't help," says Bessie, "Patience is a virtue."
Bessie will graduate this May, and plans to write for a local paper. We are sure that the patience and teamwork she has learned as part of the Luray Fire Department will help her in all her future adventures.
In 2010-11, the Elks National Foundation allocated $2.296 million to fund the Most Valuable Student Scholarships. For more information about the Most Valuable Student scholarship program, including eligibility and deadlines, please visit www.elks.org/enf/scholars.