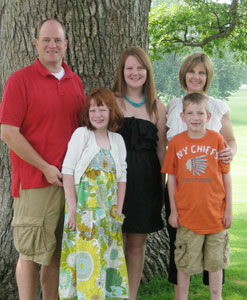 Chandlar Smith has seen a rare disease take hold of her siblings, but she refuses to let the disease grab her spirit and optimism.
Chandlar, a 2010 Legacy Award recipient sponsored by Lafayette, Ind., Lodge No. 143, and her parents are co-founders of the Smith Family BReaK Thru Fund, an organization that raises money for Niemann-Pick Type C research. This disease, which has affected her family so deeply, is a rare genetic disorder that causes progressive deterioration of the nervous system.
"My three younger siblings—Braden, Riley, and Keaton—were all born with the disease," says Chandlar. "After we lost Braden to Niemann-Pick in 2006, my parents and I knew that we had to do something to support research for a cure in honor of my siblings."
Through all the hardship, Chandlar and her family remain strong in their fight for a cure. They have teamed with the Lafayette Lodge the past three years to hold a golf tournament fundraiser. With the Smith family's dedication, the help of the Elks, and the love of the community, the Smith Family BReaK Thru Fund raises almost $40,000 each year, which funds research for the disease.
Continuing her Fight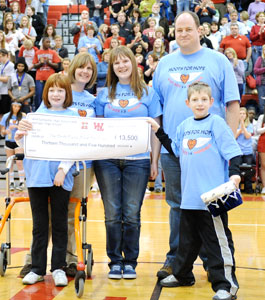 While the Elks have always been a part of Chandlar's life, they have given more meaning to her life in recent years.
"The Elks Lodge has been the setting for so many wonderful events throughout my life," says Chandlar. "My fondest summer memories come from days at the pool or evenings on the golf course. In the past two years, I have loved the Elks even more because of their generosity toward the BReaK Thru Fund and my family."
As the Smith family continues their fight, Chandlar always remains grateful for her siblings and the joy they bring to her life, along with the lessons they have taught her.
"Niemann-Pick Type C has taught my family and my community to take life one day at a time," says Chandlar. "My siblings are the most inspiring people I have met in my entire life. Each day they encourage me to be the best I can be and never give up."
And Chandlar won't give up. With the help of her ENF Legacy Award, she is now enrolled at Indiana University majoring in marketing. Her work with the Smith Family BReaK Thru Fund gave her a love of event planning and publicity, which she hopes to turn into a career someday.
Chandlar has had to overcome many struggles in her life, but she always remains positive and finds the good in every day. Chandlar's commitment to her siblings, her parents, and herself has never wavered. We know she will continue to live her life with grace and excellence no matter what obstacles she encounters.
In 2010-11, the Elks National Foundation allocated $1 million to fund scholarships for the children and grandchildren of Elks. If you know an Elks child who is a high school senior, encourage them to visit www.elks.org/enf/scholars for information, including eligibility and deadlines.